If you entered your Google Webmaster Tools account lately, you probably noticed that things looks different. A lot different. When I visited my account earlier, I first thought that some bug messed up the design but after a few seconds I realized that it's a complete new interface.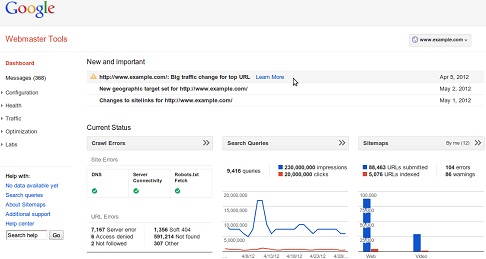 After axing few mostly unused features, now the Webmaster Tools team is advancing into the next step and presenting a renovated interface which mainly includes a new dashboard and updates to the navigation bar. Let's go over the changes and try to understand the logic behind them.
The New Dashboard
Now, right at the top of the dashboard, webmasters would see the most recent messages and updates while previously it only appeared on its dedicated tab. This reflects Google's increased activity of contacting webmasters recently in issues like drastic change in traffic or warnings about unnatural links pointing to the site.
This may also demonstrates Google's intention to be more transparent with webmasters and notify them about major events regarding their site. Until today, webmasters didn't really understand why their sites have received a boost in rankings or a drop in rankings and could only assume.
Hopefully, bringing the webmaster-Google messages channel into the spotlights is indicating about some change in approach for the sake of better clarity.
Additionally, Google dumped the "Links to your site", "Top search queries" and the "Keywords" features from the dashboard (they obviously still accessible from their designated tabs) while adding the interactive "Search Queries" graph feature instead.
The "Crawl Errors" and the "Sitemaps" features remained on the dashboard and received a visualize upgrade. To summarize, the new dashboard contains only the following four features: Messages, Crawl Errors, Search Queries and Sitemaps.
The New Navigation Bar
The Webmaster Tools navigation structure has been changed a bit as some features have switched places into other tabs. Also there are some semantic changes in the tabs' name. However, the features themselves haven't changed. These are the new tab groups:
Configuration-

All the basic options of the site that the webmaster can define.

Health-

Basically how the site's appears from the Googlebot eyes.

Traffic-

All the features relates to the site's rankings and links. Note that the +1 Reports are now under this group.

Optimization-

All the optimization-related features. The Remove URLs now appears in this group and "HTML Suggestions" been renamed to "HTML Improvements".

Labs-

Few more advanced features.
The last addition is the possibility to arrange the webmaster's sites on the homepage in a more compact form, which can be more convenient for webmasters who manages multiple sites.