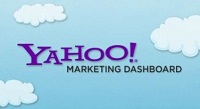 Yahoo's glory days when it was the most dominant online force, might have gone for good, but the old web company still got some few cards left. Some of them are disgusting but apparently some of them can also be helpful and constructive.
The company has introduced yesterday one of those helpful products (for a change) that can assist small business owners track and build their business online for free, called Yahoo! Marketing Dashboard. It's operating under the umbrella of Yahoo Small Business which mainly offers web hosting, e-commerce, email and domain services.
In a world where information pour up from all directions, an efficient tracking, monitoring, analyzing and optimizing practice is necessary for any small business who has at least some expectations on the web. Into this place Yahoo! Marketing Dashboard is trying to enter.
But in this arena there are already few powerful players. Google Analytics is the most popular (and probably most effective) free traffic analysis tool and Facebook also has its own analysis tool, Insights, that been improved recently. So what Yahoo! Marketing Dashboard has that others don't? Let's try to find out:
Local Visibility- This feature alone made me thinking that the folks at Yahoo are "a bit" outdated. Checking if your site is visible in more than 100 search engines and directories? What is it, 2005?  For $9.99 a month they also offer to submit your business profile to these directories and search engines… So lame.
Site Traffic- Although the reporting includes some deep analysis features, it doesn't offer anything else that already wasn't available in other products like Google Analytics.
Reputation Tracking- This is actually a very nice and unique feature. it provides an overview about how the site's perceived online. It collects reactions to the site from 8,000 sources (including Facebook and Twitter) and breaks it down for positive, negative or neutral. The two last reaction are available for fee and for $19.99 a month you can receive access for all.
Campaign Tracking- Yahoo partnered with Constant Contact to offer great email marketing campaigns insights and with OrangeSoda to offer PPC and SEO insights. Nice.
Overall, there are some features in this tool like the Reputation Tracking that can be really insightful, however, Yahoo! Marketing Dashboard doesn't offer something exceptional that would make it really special. But thumbs up for Yahoo that at least trying again to contribute.
Next step, drop your BS suit against Facebook and join Twitter's IPA!