Google is making some changes and adding more tools into its advertising program, AdWords. Most of the updates are mobile-related and more specifically that are targeted towards advertisers with mobile apps, which clearly indicates that Google understands how valuable this mobile apps market is.
New Mobile App Extension
The most significant addition is the possibility to promote the advertiser's mobile app (either Android or iOS apps) within the ad whenever it appears on smartphones- Right below the regular link to the advertiser site, additional link will refer users to the download page of the advertiser app on Google Play or on the App Store. Here's how it suppose to look: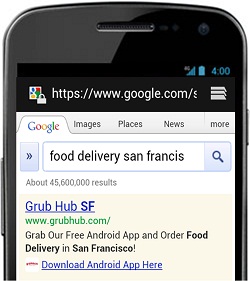 For businesses that do have a mobile app, it can be a great opportunity to expand the app's reach for more audiences. Many mobile users prefers using apps instead of mobile web and this new extension can expose the app directly to those users that might not even be aware that it was existed. Sadly, it is currently only available on smartphones and not on tablets.
Google are stating that beta participants that tried this extension (such as GrubHub from the photo above) experienced a rise of 6 percent in click-through rate in campaigns using this app extension, which is surprisingly lower than I would have expected… But in any case here's how to add the app extension to ads:
On your AdWords account, enter the Campaigns tab and click on the Ad extensions sub-tab.
Click on +New Extensions, choose your desired ad campaign and click on Mobile app extension.
After you choose your app operating system (Android or iOS), you'll have to type its Package Name (for Android) or its App ID (for iOS).
Fill the link text and the link URL (for iOS only).
Richer Information On Click-To-Download Ads
Another nice addition for mobile app advertisers is the auto-enrich of click-to-download ads. Whenever click-to-download ads will appear for mobile users, a new Preview button will appear below the ad. When users will tap on it, they would be able to see the app's images, description, category, pricing and rating (when available).
There's no need to take any action, Google will automatically draw this information from Google Play or from the App Store. This feature can increase the advertiser's ad conversion rate because users will now be exposed for more information before deciding if to actually download the app. Here's how it suppose to look like (Mortgage Calculator app ad of Quicken Loans):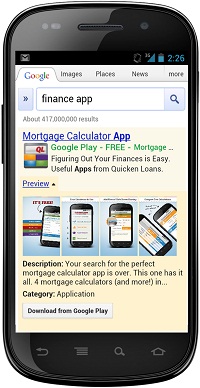 Tracking Android App Download Counts
The last addition to AdWords app advertisers is the option to keep track of the Android apps that were actually downloaded after being referred from the ad campaign. That can indicates if the ad itself is effective enough and if users are downloading the app after clicking on the ad. Here's how to set it up:
On your AdWords account enter the Tools and Analysis tab and then the Conversions sub-tab.
Click on +New conversion, choose a conversion name, select Mobile app download and save.
Enter your app's Package Name, save and click on Done. Within 24 hours you will begin receiving the downloads count data.
"Show Ads More Evenly" Set For 30 Days
Google also announced on a change in the "Rotate evenly" option from the rotation settings. From next week, advertisers that will choose for their ads the "Rotate evenly" option over the "Optimize for clicks" and the "Optimize for conversions" options, will rotate only for 30 days period. Afterwards it will automatically be set for "Optimize for clicks".
Ad groups that are currently set for "Rotate evenly" for more than 30 days, will be set automatically next week for "Optimize for clicks".