Another month went by since my last search engine market coverage and now it is the to review the latest search engine market share trending for March 2012. In today's edition besides the traditional U.S. overview I will also cover two very interesting markets- Russia and Latin-America.
comScore – U.S.
It appears that the U.S. search market remains mostly unchanged and frozen compared the prior month where Google (66.4%), Bing (15.3%) and Ask (3%) kept their exact same share while there were minimal changes for Yahoo (lost 0.1% to 13.7%) and AOL (gained 0.1% to 1.6%).
The Bing-Yahoo search alliance didn't broke any barriers in March as it holds 29%. However, even though the relative shares didn't changed there was 4% increase in the total number of searches where each search engine had a rise of 4%-7% in searches volume.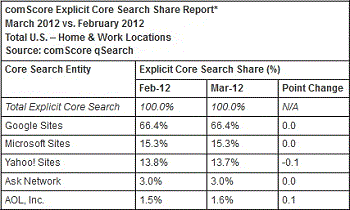 Chitika – U.S.
Chitika report is showing a slightly different picture than comScore. According to the data, Google gained significantly in March (+4.8%) climbing to a share of 77% and Yahoo, which is still the second most popular search engine, dropped hard (-5%) to a share of 11.6%.
All other search engines had just small movements- Bing lost 0.3% to 9.6%, Ask (+0.3%) and AOL (+0.1%) still has less 1% share each.

LiveInternet – Russia
According to data from the Russian internet research site LiveInternet, Yandex dominates safely the Russian search market with 59.4% share in March (+0.1 compared to February) and Google is second with only 25.9% share (+0.6%). Russia is one of the few global markets where Google isn't the most popular search provider.
Mail.ru is holds 9.3% of the Russian market (-0.1%) and Rambler has 1.4%. Bing has only 0.7% of the Russian market and Yahoo almost doesn't exist in Russia at all.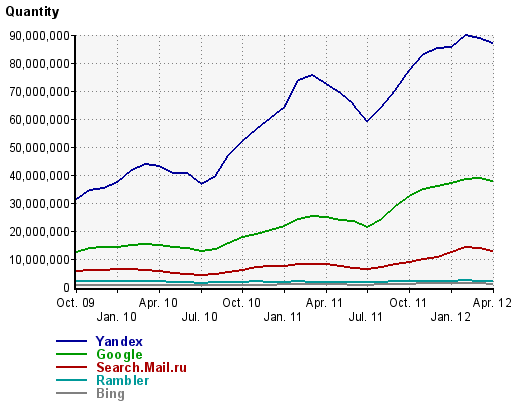 StatCounter – South America
Wow. I knew that Google controlling South America but I didn't realized how much… According to StatCounter, Google holds 98.2% of the South American search market! Even if those numbers aren't so accurate, it doesn't really make any difference- Latin America loves to search on Google almost exclusively.