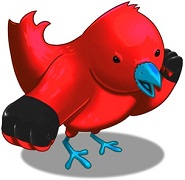 Social networks have been battling with spammers almost simultaneously since their own arrival into the virtual world. This phenomenon has been intensifying in recent years as spammers have been riding on the huge increase in popularity of social networking sites.
But now, another social networking site is transiting the battlefield from the online arena to the courtroom.
Twitter has disclosed in a blog post that the social networking company has filed a lawsuit in a San Francisco federal court against five private individuals and companies after they have participated in a heavy spamming activity on the site. The five defendants are:
Skootle Corporation and James Kester- Runs the automated Twitter management software TweetAdder.
Web Solutions and Jayson Yanuaria- Runs the Twitter marketing software TweetAttacks.
Justin Clark- Runs the Twitter "marketing" app TweetBuddy.
James Lucero- Conducts Twitter spamming-related business and operates dubious sites like justinlover[dot]info.
Garland E. Harris- Conducts Twitter spamming-related business and operates questionable legitimacy sites like troptiontrading[dot]com, troption[dot]com and gtp123[dot]com.
The first three defendants are being accused of offering software that creates large number of spammy Twitter accounts and harms many users' experience. The last two defendants are accused for being responsible for a high volume of spammy Tweets.
In the lawsuit, Twitter also elaborates the company's anti-spam efforts price tag for each of the defendants: Anti-spam efforts to combat with the actions of TweetAdder valued at $75,000, of TweetAttacks valued at $150,000, of TweetBuddy valued at $300,000, of James Lucero at $100,000 and of Garland E. Harris at $75,000.
Twitter emphasizing in the blog post that this legal action isn't the only effort of the company to fight with spam. Twitter's engineering team is also improving their algorithms to reduce the amount of spam like their new "anti-spam measures" to decrease @ mention spam.
The purpose of this lawsuit isn't only to claim justice for those specific cases, but also to intimidate other spammers from abusing the service. This goal can also serve another social networking site, Pinterest, that been suffering lately from increased spamming attacks.
This isn't the first case of a social networking company taking legal action against spammers. Less than three months ago Facebook filed a couple of lawsuits against the co-owners of the ad network Adscend Media, claiming that the network is developing and encouraging to spread spam misleadingly.