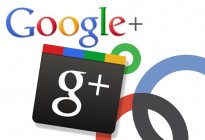 Its been a while since I covered Google+ usage and reach in the virtual world and the last time wasn't so flattering as it has been revealed that Google's social network has the lowest level of user engagement among the leading social networks.
Now, a new study can shed some fresh light on Google+, this time from online marketers point of view. In general, studies that involves online marketers are in most cases a pretty good reflection of the public opinion as marketers are always shifting towards the users' patterns.
The online magazine Social Media Examiner has published its 4th annual social media study where it tried to reveal the prominent social media marketing trends of the passing year. In this study more than 3,800 marketers have contributed their opinion and social activities experience.
Even though the report is offering many marketing insights from many angles, in this post I will mostly focus on the findings that related to Google+.
Most Used Social Media Sites For Marketers
If you find it surprising that Facebook is on top here (with 92% adoption rate by marketers) you probably in the wrong profession. Second is Twitter that showed an impressive marketers adoption rate of 82%. LinkedIn third with 73%, blogs are fourth with 61% and YouTube is fifth with 57%.
Google+ is only sixth with 40%. However, it is important to remember that Google+ was launched only in June 2011 and brand pages became available only on November 2011. Therefore, my personal opinion is that most marketers were (and probably still are) waiting to see how Google+ will be adopted by the users.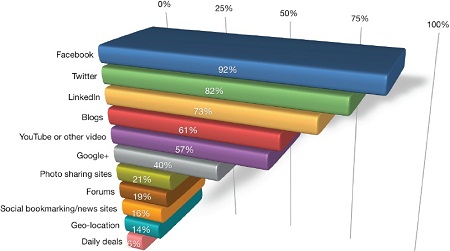 The More Experienced Marketers Are, The More They Are Using Google+
When breaking down the marketers by their experience, it is interesting to see a clear pattern of increased Google+ usage as the marketers have more experience:
Marketers with less than 6 months experience- 29% adoption rate of Google+.
Marketers with 6 to 12 months experience- 34% adoption rate of Google+.
Marketers with 1 to 3 years experience- 41% adoption rate of Google+.
Marketers with more than 3 years experience- 58% adoption rate of Google+.
It looks like younger marketers are still sitting on the fence to see how things with Google+ will develop, while veteran marketers already jumped into the Google+ water. Do they know something that others don't?
Marketers Plan To Increase Activity On Google+
Even though most marketers aren't using Google+, it may change in the near future. 67% of all marketers have indicated that they are planning to increase their activity on Google+. However it is unclear if it can be attributed specifically to Google+ or to the whole social media industry growth.
For comparison, 76% of marketers plan to increase their activity on YouTube, 72% on Facebook, 69% on Twitter, 68% on blogs and 66% on LinkedIn.
Wants To Learn More About Google+
The good news for Google+ are that 70% of marketers wants to learn more about it and to understand it better. Pretty far in the second place are blogs which 59% of marketers wants to learn more about. Facebook dropped to the third place with 58% after last year it was first with 70%.