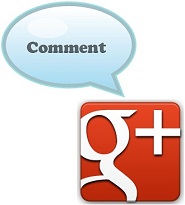 Google is always trying to find more ways to increase the level of its user engagement within its social network, Google+. So far, there are indications that it doesn't succeeding to much. But now, according to web rumors, it is about to launch a product which holds a lot of engagement potential.
Few days ago (March 24th-25th), Google held its G-Saudi Arabia conference. During that event, few Google's engineers were rumored to discuss about the a launch of the company's own blog commenting platform which will integrated with Google+, the same way as its biggest social rival's product, Facebook Comments.
This is actually a pretty logical move from Google. The company already making tremendous efforts on the verge of obsession to promote its social network, and creating its own blog commenting platform to third party websites is surely a way to raise the involvement of users with Google+.
But Google+ commenting platform can also contribute well beyond the engagement factor. First of all it's a great way to expose and to allure more people to join Google+. Second, it will be much more integrated with Google search engine that just began crawling and indexing other commenting systems runs by JavaScript/AJAX (Facebook's, Disqus) few months ago.
The big question is, if it isn't already too late.
Many websites and blogs are using another commenting platform (including Working Home Guide) such as Facebook Comments. Switching to a new commenting platform means losing all the existing discussions and which drives substantial amount of traffic via those social channels.
Another consideration which I'm sure will occupy many site owners, is why choosing a 90+ million users social network platform over 850+ million users social network platform. Google can solve this problem that if it will allow other login providers on its future commenting system, which isn't clear at this point.
If indeed we'll see soon a Google+ blog commenting platform, I think that the biggest losers will eventually be the standalone comments platforms such as Disqus and not necessarily Facebook's. Social networks are already taking a major part in people lives, so there's no reason why they wouldn't be more connected to websites/blogs.
It is important to mention again that the supposedly Google's third party blog commenting platform launch is just a rumor at this point in time. I am waiting for Google response about this topic and if they release some statement I will update.