When Groupon acquired OpenCal, a Canadian-based automated online appointment scheduling startup, in September 2011 almost nobody has noticed this acquisition. Soon enough after the acquisition, Groupon launched for testing Scheduler, an online booking service based on the technology of OpenCal.
Scheduler was running as a pilot at two cities alone at the beginning (Sacramento and Miami) and expanded to just a few more cities in the following months. Today, Groupon announcing it is offering Scheduler FOR FREE for all small businesses across the U.S. and Canada (without Quebec for some reason).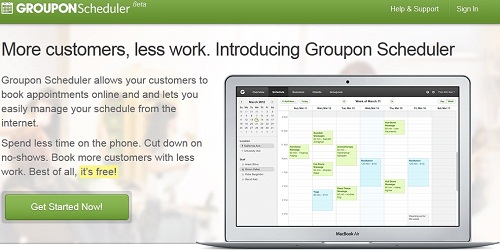 From today, American and Canadian small businesses can sign up for a free beta version of Groupon Scheduler which suppose to offer SMBs the possibility of running the business smoother while the owner can focus more on developing the business and "less time on the phone".
So, what is it exactly Scheduler? It is essentially an online tool for appointment booking and staffing management. It is mostly centralized around the following two areas:
Online Booking By Customers- The product obviously operates 24/7 online and allows clients to book appointments easily and fast. It can also serve to manage all of the other small business owners services by installing a "Book Now" button on their websites.
Data Management- Shows all the future confirmed appointments (the tool asks customers confirmation 3 days before the appointment), relevant stats about existing customers and redemptions all in real-time.
The Scheduler definitely looks like a tool that could make the life of many merchants easier and more simple where it is dealing with all the aspects of automatic booking appointments of customers and minimizing the chances for no-shows (by the confirmation/reminder feature).
Loving Lotus Center & Spa owner, Jane Kane, was one of the early "testers" of Groupon Scheduler and she shared her experience about the service (as presented in Groupon's press release):
"We began using Groupon Scheduler in February and it has been a great tool to help manage customer appointments and employee schedules. It was extremely easy to implement and Groupon Scheduler has helped reduce the amount of time I spend on administrative tasks, giving me more time to do what I enjoy most- work with my clients."
Groupon hopes that the new free tool offering will appeal and attract many small business owners to join and to increase their activity on Groupon, as the company certainly needs that. Since the all time traffic heights it manage climbing to in June 2011, the daily deals site lost approximately 30%-50% of its total traffic.