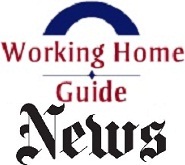 What were the major web news this week? Google expands encrypted search worldwide and replace the Android Market with "Google Play", Yahoo launching a new site for entrepreneurs, Facebook submits an amended IPO form and introducing interest lists, Google+ made some more changes, YouTube applying new design on all channels and a new initiative to support women entrepreneurs launched.
Google Encrypted Search Goes Worldwide – Google began using SSL encryption for its homepage (Google.com) in October 2011 and this week it also began using it for all of its global sites (Google.jp/.fr/.co.uk). This change predicted to boost the amount of "Not Provided" keywords in webmaster analysis tools.
The Android Market Gone, Google Play Is Here – Google retired the Android Market which first introduced in 2008 as an online store for Android apps and replaced it with "Google Play" which designated to unify all of the company's digital content services (not just for Android) such as apps, games, music, movies and books in one place.
Yahoo Launching Content Site For Entrepreneurs – Yahoo has taken out its Small Business Advisor from beta release and made it one of the largest content sites on the web that aggregates articles from Yahoo properties and others for entrepreneurs and small businesses.
Facebook Updating The IPO Form – Facebook filed this week an amended (no. 2) S-1 form which covers all the company-related events that may affect Facebook in the future. There are many significant changes from the initial IPO form on the users, risk factors and revenue sections.
Facebook New Interest Lists – The social network rolled out a new feature that allows users to create their own News Feed (or choose a one that already exists) that is dedicated to any topic they want, as a better way to expose users for contents after the main News Feed may produce some overload.
Google+ New Things – Google+ introduced this week its usual amount of updates: It introduced a new design for the +1 button so it will be more associated with the social network and it is allowing site owners to thank people that +1'd one of their pages directly from the search results.
YouTube New Channels Design and Improved Player – YouTube is bringing the new channels design, which presented on December 2011, to all channels on the video site while disclosing some impressive stats. In addition, the site is improving pretty drastically the seek bar of its video player.
Google New Initiative To Support Women Entrepreneurs – Google has began piloting a new program (Women Entrepreneurs on the Web) that teaches and assists businesswomen to build their business on the internet for free, by using the company's tools.
Discover the latest online news, guides and interpretations every day here in Working Home Guide!