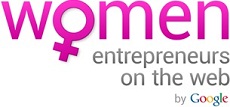 Even though there are many senior women executives in the tech industry like Google's Marissa Mayer and Facebook's Sheryl Sandberg, the entrepreneurship world is still mostly being dominated by men. Eventually, the biggest losers, if you asked, are… all of us (male or female)!
There's no doubt that it is difficult to evolve from ages of patriarchal male dominance to an equal opportunity ecosystem. Therefore, in order to progress we might need a little push, especially in more developing regions of the world. For this cause, a new Google's initiative to support women entrepreneurs has been launched recently.
The initiative, called Women Entrepreneurs on the Web (WEOW), is designated to assist businesswomen (experienced or inexperienced) to create and develop their business on the web. At the moment, the WEOW is being experimented only in India, but Google plans to roll it out to other destinations in the future.
The program is mostly focused on improving businesses based on web technologies and tools of Google and covering the following five areas:
Build Your Online Presence- Expanding the reach of the business guidance. Teaching how to build a website, a channel on YouTube (with the new design) and a Google+ brand page.
Collaborating Effectively- Improving the efficiency of the entrepreneur and her employees guidance. Teaching how to use online tools like Gmail, Google Docs and Calender.
Connecting With Your Customers- Connecting with customers and build a personal relationship guidance. Teaching how to host a Google+ hangout and promoting the business by using offers, deals and discounts.
Promote Your Organization- Promoting the business in innovative ways guidance. Teaching how to create effective videos on YouTube and using advertising platforms such as AdWords or AdSense.
Track And Optimize- Analyzing the business performances and trends guidance. Teaching how to use analysis tools like Webmaster Tools, Alerts, Ripples, Analytics.
There is no fee involved in the program, except for purchasing a domain name for a website which isn't going to Google's pockets and even so it is a cheap thing (about $10 for a year). So what's Google angle in this you ask? The company is encouraging businesswomen to use its products while they grow with their businesses, which is pretty understandable.
As I stated before, the program is currently in pilot stage only in India but the plan is to launch it to other locations. If you are located outside of India and you are interested in participating in the program you can fill this form and you'll get notified whenever it will be available for you.
For more information you watch the following video hosted by Google's head of global diversity and inclusion initiatives, Yolanda Mangolini, where she explains and reveals more details about the program: