Another month went by and this is yet again the time to overview the most recent search engine market share changes and trends, for February 2012. In this edition, I will cover the search industry in the U.S., worldwide and also in one of the fastest growing search platforms, mobile.
comScore – U.S.
The February report of comScore is indicating that the "usual" trending we got used to, continued on February as well- Google's share went up by additional 0.2% to a total of 66.4%, Microsoft's (Bing) share went up by additional 0.1% to a total of 15.3% and Yahoo's share showed another decline of 0.3% down to 13.8%.
Ask's share remains steady at 3% and AOL's share fell by 0.1% to 1.5%. Overall, we can see that although Bing is gradually growing it doesn't take the share out of Google's pockets but actually from its search-alliance partner, Yahoo. At the moment, this alliance is holding a combined share of 29.1% which is pretty similar to the days pre-Bing (when it was just MSN search).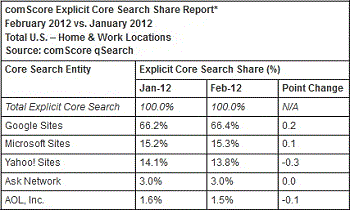 Chitika – U.S.
Unlike comScore's stats, Chitika is reporting about a VERY different trending. It is showing that Google had lost between January and February 3.74% market share, dropping to 72.11%, where Bing also lose some of its share (-1.44%) and now holds 9.88%.
Chitika numbers are showing that Yahoo had actually benefited from a huge gain of 5.45% share, surpassing Bing and standing at 16.57%. AOL (0.79%) and Ask (0.65%) lost some share but they already held almost insignificant portions.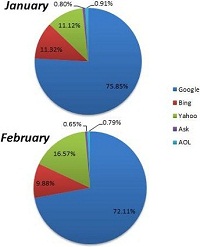 So we have two U.S. reports pointing on different trending directions, who is right? At this point, I tend to embrace comScore's numbers slightly more as it considered to be more reputable and authoritative. However, I will keep my eyes open and see if there was some truth in Chitika's report or it was just a deviation.
Worldwide – StatCounter
The global arena didn't changed much and it is still under full control of Google that in February held 91.78% of the worldwide market. Other search engines are just fighting for leftovers- Bing had 3.46%, Yahoo had 3.31%, Yandex had 0.36%, Ask had 0.33% and others had 0.75% combined.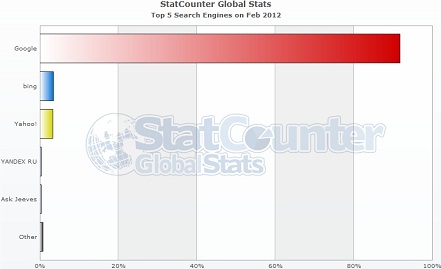 Mobile – NetMarketShare
Even though Google dominates mobile (including tablets) search as well, according to NetMarketShare it lost some share in February. Google has lost 3.12% of the total share, landing at 88.35%. Yahoo gained 0.21%, climbing to 6.63% and Baidu tripled its share from January jumping to 3.34%. Bing had 1.08%, Ask had 0.42% and all others had 0.19% combined.