The browsers war took an interesting turn at the beginning of January after Google got caught in a paid links campaign for Chrome and their dramatic announcement of demoting Chrome's homepage following it (to the joy of its rivals, Microsoft Internet Explorer and Mozilla Firefox).
Until the demotion, Chrome was gaining market share gradually, so it is interesting to see how it has affected Chrome's share and the general browser trending. Let's go over the most recent web browsers market share from the top analysis tools online:
StatCounter (February 2012)
StatCounter data are revealing that although the general browser trends haven't changed, they are clearly slowed down: IE has dropped to 37.12% in February from 37.45% in January, Chrome went up to 28.94% from 28.4% and Firefox slightly fallen to 24.69% from 24.78%. These changes are about half of the average change rates.
IE- 37.12%
Chrome- 28.94%
Firefox- 24.69%
Safari- 6.6%
Opera- 1.89%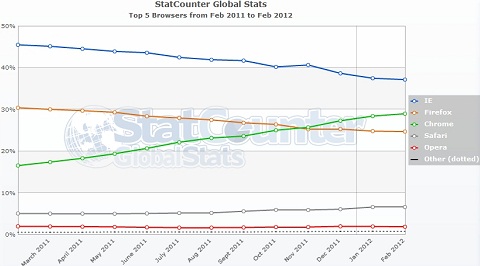 NetMarketShare (January 2012)
The stats from NetMarketShare are not only showing a deceleration in the general trends but also even some flip where IE rose to 52.96% in January 2012 (from 51.87% in December 2011) and Chrome dropped a bit to 18.94% (from 19.11%). Firefox continued its decline to 20.88% (from 21.83%).
IE- 52.96%
Firefox- 20.88%
Chrome- 18.94%
Safari- 4.9%
Opera- 1.67%
Other- 0.65%

Clicky (February 2012)
Data from Clicky (updated for February 2nd) are indicating that the general trend changes are continuing, however in a bit slower pace. IE have dropped to 39.27% from 40.19% in January, Chrome climbed to 25.77% from 24.5% and Firefox managed to stabilized at 24.55% from 24.34%.
IE- 39.27%
Chrome- 25.77%
Firefox- 24.55%
Safari- 8.86%
Opera- 1.48%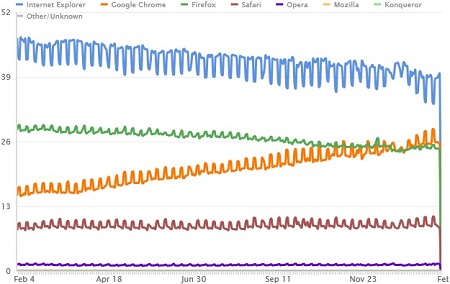 StatOwl (January 2012)
Stats from StatOwl are showing that IE has gained some share on the expense of Firefox while Chrome remained as it was. IE rose to 51.81% in January 2012 from 51.42% in December 2011, Firefox dropped to 18.98% from 19.73% and Chrome remained more or less the same at about 16.77%.
IE- 51.81%
Firefox- 18.98%
Chrome- 16.77%
Safari- 10.93%
Other- 1%
Opera- 0.36%
Gecko- 0.15%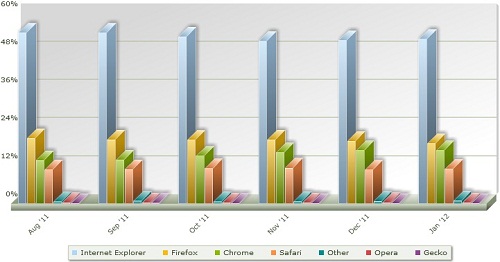 Summary
Overall, it seems that Chrome homepage demotion had an effect on the browser market share, where Chrome lost or held steady the same share instead of the usual gain. The main beneficiary is definitely IE where it or gained or remained the same share instead of the usual loss.