It's been a while since Facebook introduced some new feature that wasn't designated to increase the company's revenue (well, not directly at least). But now the social network giant is presenting a new possibility which offers the users more organized and personalized experience- Interest lists.
Just last week I reported that Facebook was testing this new feature and apparently it is now ready to go live. Facebook's engineer, Eric Faller, has announced on the launch of interest lists yesterday, characterizing it as a way to make Facebook as the user's "personalized newspaper".
When I reported about the interest lists experiments, I suggested that Facebook might be trying to help users to find contents more easily after there might be an overload on the user's main News Feed, by adding sub News Feeds dedicated only for specific pages. It turned out to be pretty accurate- The interest lists also features related personal profiles besides pages.
The interest lists basically allows users to create a topical News Feed of their own (or choose an existing one) which gathered pages and people from the same niche under one place. This enables following one specific chosen category without any "surrounding interferences".
Creating a list is very simple:
Click on the "Add Interests…" button at the bottom of Facebook's left sidebar or enter the Add Interests page directly.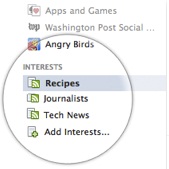 Click on the "Create List" button and begin adding pages and friends to your desired list. You can assist the categories on the left side to find related pages/people.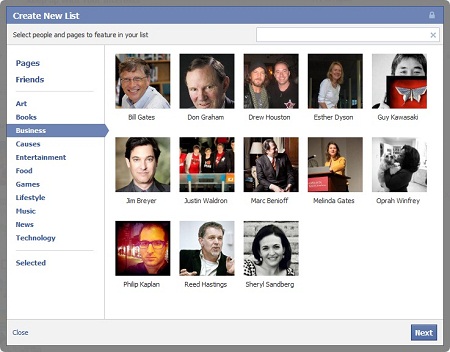 After you have chosen pages/people that appear on the list, click "Next". Choose the list name, who could see it (Public, Friends, Only Me) and hit "Done". That's it, the interest list is ready!
It took me only about 10 minutes to create this Online Business News list, which allows me and the public (you are more than welcome to subscribe) to follow the recent web updates and news from a list of respectable tech-news sources. Here's a screenshot of how this list's feed looks like: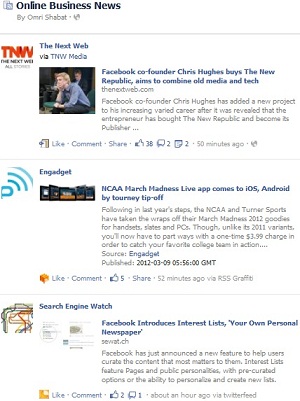 Facebook knows that as long as it will keep growing and people will continue to add more friends and subscribe to more pages, it will be harder for them to track the contents on their main News Feed. The new interest lists feature is designated to solve exactly this problem- It can divide the main News Feed to few categorized sub News Feeds.
With this new option, Facebook is now providing the best way to deal with posts overload, among all social networks. It's now your move, Google+.