It wasn't an easy week for Google+. All it takes is just one unfortunate study from respectable research firm to take all the wind out of your sails… Nonetheless, the Google+ team continues to do what it suppose to do- Keeps bringing new features and improvements.
Although non of the following new updates is a game-changer by itself, improving the platform little by little may eventually also reflect on the user engagement, which for the time being is pretty poor (again with the miserable study). Here are the Google+ updates for this week:
One Click +1 and Comment
Google announced this week on few updates to the Google+ plugins. The first is the possibility to add a comment whenever +1 a page. After clicking on the +1 button, the share box will immediately pop where the user can also choose if to add a comment and with whom the share it.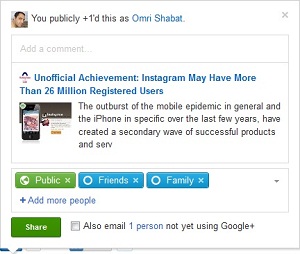 Adding Brands To The "Following" Circle
The badge for adding Google+ pages has been updated and it is now saying "Follow" and when clicking on it it will automatically add the page to the user's "Following" Circle. Another click will allow the user to choose another Circle to add the page to.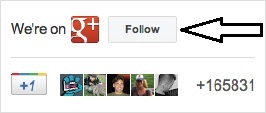 "Add To Circle" Badge For People
Now, not only pages can add a badge but also people. To create your badge for your own personal profile you can enter this page and customize how it would look like. Here's an example of my badge:
Grouping and Hiding Spam Comments
Nandini Kappiah from the Google+ team has presented a new feature to fight with spam comments. Now, whenever Google+ spam algorithm will identify spam comments, it will group them together and hide them. If the post's author would like to review them, he could click on the "Show comments removed as spam" link under comments-counts.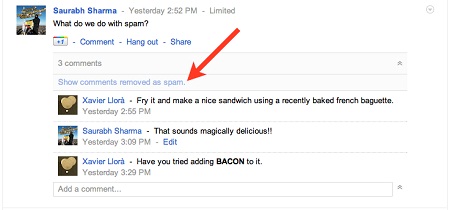 New Effects To Hangouts
Yesterday, Google+ Hangouts product manager Amit Fulay has introduced some new effects that could be added on the faces of people that participate in the Hangout. To try them, click on the mask icon on the Hangout.