It has been a good week for the analytic tools market. Facebook improved drastically its tool, Insights, with close to real-time reporting and (what I am going to discuss in this post) Google Analytics also presented few improvements and upgrades to its own popular measurement tool.
All of the updates and improvements are related to either faster loading time of the website's reports or either to user interface/design improvements. Google are stating that the updates were based on users feedback and encourages furthermore users to continue submitting their opinions (by using the "Send Feedback" link on the Analytics page's footer).
At the beginning of the week, Google introduced some new features that relates mostly to faster reports loading time and the users control over it:
Visual Indicator For Loading Time- For high-trafficked websites, sometimes it takes a while before Google Analytics generates the report. A new visual indicator has been added to show how much longer would it take to load the report.

Data Loads In The Background- Again, this is mostly relevant for high-trafficked websites. As long as the user will keep Google Analytics page open, it will continue constantly to cache the data on the background in order to save time from later. At the bottom of the reports there will be a time indication for the last time they have been updated (where the user can also choose to refresh the data).

Controlling The Report Calculation- Until this week, if there were more than 500,000 visits in the reports, the tool based the reports only on a sample of the visits. Now, the number has reduced to 250,000 visits and the user has more control over it by clicking on the icon on the top right side of the report (as in the image below) and adjusting the number of visits for calculation ("Faster Processing"=less visits, "Higher Precision"=more visits).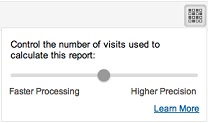 Yesterday, the Google Analytics team presented several more changes that relates to appearance and design:
More readable cards, tables, graphs and color palette.
Better hierarchy order.
It is possible to change graphed metrics and comparison metrics directly from graphs.
Easier metric group options.
New icons on the left navigation bar (as in the photo below).