Bing continues to reach out for the webmaster community with new tools and features. Yesterday, Duane Forrester from Bing's search team has announced in a blog post about two new interesting features they are rolling out: Keyword research tool of the organic search results and the release of Bing Webmaster Tools API.
Bing Keyword Research Tool
One of the most important tools for online marketers and webmasters to measure specific keyword popularity has finally arrived to Bing and it can be found within the webmaster's Bing Webmaster Tools account under the "Keywords" tab or through this page. I don't know if it will surprise you or not, but the tool is excellent.
Here are some of its features:
Filters-

The user can filter the results for specific country or region and for certain language ("All" is the default for both filters).

Dates-

The user can choose any time-frame from the past six months to see results for (the minimum range from what I have examined is two weeks).

Strict Mode-

Marking the strict box will show only the results for the phrase typed and not for all the queries containing the phrase.

adCenter Stats-

For advertisers there's an adCenter box on the left side that elaborates the keyword average CPC and Bid on the mainline and on the sidebar.

Impressions-

How many impressions the keywords received in the search results at the selected time-frame.

Trending Graph-

Shows how the keyword has been trending over the selected time-frame.

Suggestion-

Related keywords and their stats.

History-

Shows the last 25 queries the user has researched for.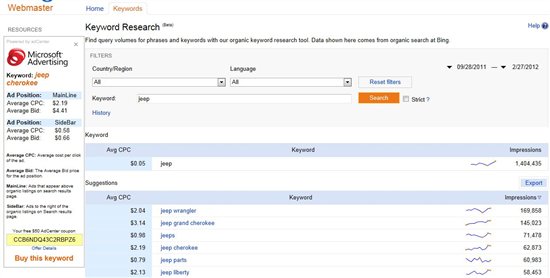 Bing Webmaster Tools API
Bing is now allowing developers to access their Webmaster Tools data in other online locations outside of their account. The "Webmaster API" option is available under the "Settings" section on the webmaster's account (it is required to accept the API's terms of use at the first time logging in).
All the support documentation for the API for developers can be found in this link.
Bing Experimenting With New Design
Michael Gillett from Liveside was first to discover that Bing is experimenting with some new search results interface. The tested new design looks a bit more cleaner where the user ID (Facebook or Windows Live account) is slightly more prominent on the right side of the search box.
Also, the related searches section moved to the right side of the results page taking the place of the sidebar ads. Remember that it is just an experiment (although not officially confirmed) and I doubt if Microsoft will give up on their ads so fast… Here's a screenshot: