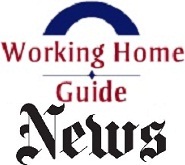 This week main headlines: Google adds the share box to its homepage, AdWords and AdSense presenting multiple updates, Twitter signs an agreement with Yandex, Pinterest allows to block pinning which quickly adopted by Flickr that also redesigning and Digg is showing signs of possible comeback. Let's begin:
Google+ Share Box Into Homepage – Google has implemented another Google+ feature into another of its products, the company's homepages worldwide (Google.com/co.uk/co.in, etc.), in a move that may truly symbolize the change Google is going through as a company.
AdWords Updates – The most popular online advertising platform has introduced bunch of new updates recently- Enhanced ad sitelinks for higher click-through rate, new AdWords community site at a different domain and the possibility to block specific advertisers from the search results.
AdSense Updates – The other side of AdWords, AdSense, also presented lately some updates and improvements- Mobile ads can now be created from the main platform (AdSense for content), publishers will begin receiving ad optimizing recommendations in their accounts and AdSense for domains is shutting down.
Twitter and Yandex Agreement – The micro-blogging social network and the Russian search engine have signed a deal where Yandex will receive access for Twitter's public Tweets feed. The agreement improves Yandex's social search incredibly and exposes Twitter for more international audiences.
Pinterest Allows Websites No-Pinning – Pinterest is helping websites to fight with copyright infringements of their contents by implementing a short code into their pages which will block the option of pinning. Pinterest's competitor, Flickr, already using the code in non-public accounts.
Flickr's "Pinterest Make Over" – Flickr has announced this week that they will begin a complete redesign for the site starting in the upcoming week and will continue in waves throughout the year. The new design awfully resembles another social photo sharing service, that's right, Pinterest…
Digg Returning To The Spotlight? – One of Digg's employees has revealed that the site's page views have grown by 35% in January reaching for its highest peaks since October 2010. The rise is mostly attributed to Digg's Social Reader application for Facebook which increased the incoming traffic from Facebook by 67%.
Stay up to date with the latest online business news and guides every day in Working Home Guide!