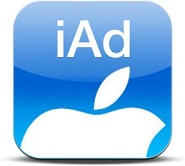 There are only a few technological markets that Apple isn't one of the biggest participating players. Mobile advertising is one of those markets. But as it turns out, the folks at Apple don't intend to let Google enjoy from this incredibly fast growing industry alone.
Back in April 2010, When Apple first introduced its mobile advertising platform for apps, iAd, the minimum amount for advertising to run a mobile ad campaign was set for $1 million. Little less than a year later, in order to attract more mid-level advertisers the amount was reduced to $500,000.
Even though it was cut by half, iAd still considered as a more exclusive mobile advertising platform that not so many companies could afford, leaving the mainstream mobile advertising flow to other mobile advertising networks such as AdMob (Google's property).
Now, Apple is taking another step to allure additional brands. According to a new report from AdAge, Apple is reducing iAd's minimum advertiser amount by 80% to $100,000. In addition, advertisers charging plan would also change: Advertisers will only be charged for CPM (cost per thousands ad impressions) and NOT for PPC (pay per click).
Although the $100,000 minimum amount is still very, very (very) far from AdMob's $50 minimum, the significant reduction will almost certainly draw more advertisers that could now afford this kind of mobile ad budget. However, Apple doesn't intends to go after advertisers only, but also after developers/publishers.
The company has announced it is increasing the developers revenue share to 70% (up from 60%). The new share balance will take effect automatically on April 1st to all developers/publishers. With this change iAd will pay more to publishers than AdMob (60% for publishers) in terms of revenue percentage split.
Wants Bigger Part From The Mobile Ad Pie
Apple's latest moves to attract more mobile advertisers and developers shouldn't come as a surprise. According the eMarketer predictions, in 2012 mobile ad spending will reach for $2.6 billion where the display ads will account for third of it. With strong double digits growth, by 2016 mobile ad spending will jump to $10.8 billion where display ads share will rise to 37%.
This sort of lucrative market is something that Apple surely can't neglect as it already reported to lose big parts of its mobile display ads share couple of months ago, and Apple didn't became the biggest company in the world by being a loser.
Update (4/2/2012): Developers 70% revenue share officially began to take effect. From iAd Network Support Center:
What is the revenue share for the iAd Network?

Developers receive 70 percent of iAd Network revenue.