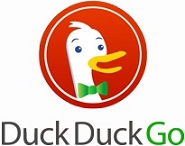 Three weeks ago i reported that the DuckDuckGo had a big jump in average daily search queries throughout all 2011 and to the beginning of 2012. Well, it looks like that so far 2012 is continuing with same growing momentum for the alternative private search engine.
Yesterday, DuckDuckGo Tweeted that they have passed the million direct searches for the first time at the day before (February 13th)! If you really want to know, the exact number is 1,067,006.
At the search engine's transparent traffic page we can also see another amazing stat- At the first half of February (until February 13th), the search engine benefited from a 45% increase in average daily searches since January!
Putting DuckDuckGo To The (Quality) Test
To investigate furthermore this incredible growing phenomenon of a website that competes in the same arena of Google and Bing, i decided to conduct a little research to examine if the results from DuckDuckGo are quality enough in order to really compete with the top search engines.
I have taken nine different search queries (one-word to long-tail) and examined the quality of their top five position results. I know, not the most compelling study, but can still provide some basic insights.
Query 1 – Mortgage
Wikipedia article
Mortgage Calculator
Mortgage Calculator
Mortgage rates comparison
Citigroup mortgage site
Overall: Variety of quality sites.
Query 2 – News
CNN
MSNBC
Yahoo! News
Fox News
Google News
Overall: Again, variety of quality sites.
Query 3 – Insurance
State Farm Car Insurance
Allstate Car Insurance
Nationwide Car Insurance
Geico Car Insurance
eHealthInsurance
Overall: Although all the top sites are quality, they aren't varied.
Query 4 – Clean Energy
Low quality site
Wikipedia – Sustainable energy
Montreux Energy's CleanEnergy
Clean Energy US Government site
Clean Energy Australian Government site
Overall: Except for the low quality site at the first position (pretty disappointing), overall good results.
Query 5 – Chicago Restaurants
Empty website
Metromix Chicago restaurants
OpenTable Chicago restaurants
MenuPages Chicago restaurants
2008 restaurants index
Overall: Two out of the top five results are very poor sites.
Query 6 – eBooks Shopping
Low quality ebooks site
ebooks.com
Low quality ebooks site
Google ebooks
Amazon ebooks
Overall: Two out of the top five results are low quality sites.
Query 7 – Transfer Website To New Host
High quality article
Medium quality article
Spam site
Medium quality article
Low quality article
Overall: Except for the first result, all others are medium quality at most.
Query 8 – Best Football Players All Time
Top 100 NFL players of 2011
MadeMan high quality article
BleacherReport high quality article
Medium quality article
Wikipedia's greatest living footballers
Overall: Very good results!
Query 9 – How To Make Money On Youtube
Great YouTube video
Medium quality article
Low quality Yahoo Answers
Low quality article
Affiliate site (looks spammy)
Overall: Besides the first result, all others are very poor.
Conclusion
It seems that DuckDuckGo search engine can handle with "easy" search terms pretty well, however as the query gets more complex (long-tail) the quality of the results declines. Unless DuckDuckGo plans a significant upgrade soon, it will be pretty difficult for this search engine to constitute as a real rival to Google and also to Bing.