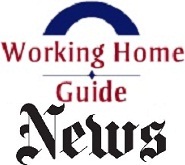 This week major online news: Tumblr tries to become a news platform, PageRank update (for the few who cares), Facebook renewing, Google presents new paid to surf program, the Super Bowl took over the web, Pinterest changing links for affiliate income and LinkedIn hitting 150 million members. Let's go…
Tumblr Becoming a News Platform? – The increasing popularity blogging platform made signs it intends to approach the news industry. It hired two professional writers to cover the different blogs and bloggers across its network and it also introduced new feature to highlight posts for $1.
PageRank Update (Who Cares?) – The once almighty search importance signal, PageRank, has been updated after few months since it was updated the last time. Surprisingly enough, there are still few webmasters that kept tracking and waited for it…
Facebook Trying New Things – Facebook began testing new photo interface (it looks like it became fully operational already) that resembles incredibly to Google+ photo interface. Additionally, new report is indicating that Sponsored Stories ads will get to the mobile platform of the social networks "within weeks".
Google's Paid To Surf Program – Unlike all other paid to surf programs online, Google has launched a legitimate one called Screenwise for the purpose of following users surfing habits. The payment? $5 every three months for your privacy.
Super Bowl Explosion On The Web – 111.3 million American have watched the Super Bowl on T.V. while the web simply exploded from Super Bowl-related stuff. More than 2 million viewers watched it live online, infinite amount of Super Bowl ads viewed on YouTube, tremendous peak in Super Bowl searches and Tweets.
Pinterest Changing Users Links For Affiliate Earnings – Its been revealed this week that the fastest growing social networking site these days, Pinterest, is changing the original user's links into affiliate links of the site to earn income from commissions, without disclosing it.
LinkedIn Quarterly Reports – The largest professional social network in the world, LinkedIn, has released its 4Q reports (as it obligated as a public company). Some of the information published: More than 150 million members, $168 million in revenue and plans for mobile advertising soon.
Stay tuned for the latest news from the online business industry every day!