Yesterday i discussed about how mobile advertising is surging where only predicted to increase incredibly over the next five years and how Google is going to earn tremendously from it. Well, couple of days ago Google released a research that might explain why there is so much money in the mobile industry.
The research examined 2,000 participants from each of the following countries: The U.S., the U.K,, Germany, France and Japan. In order to identify consumers patterns over time, the research was conducted in two time-frames: The first in January-February 2011 and the second in September-October 2011 (i will mostly relate to the second period as it the most relevant).
Let's review the main finding from the research and see why mobile ad spending is skyrocketing:
People Are Using Mobile Phone More Than Laptop/Desktop
In all examined countries, there is a deeper penetration of mobile phone usage than laptop/desktop usage. Japan's consumers are the most tech-savvy as they have the highest percentages of either mobile phones (96% reach), laptop/desktop (86%) and even gaming devices (38%).
We can also see very high mobile consumer usage in all markets: 96% in Japan, 89% in the U.K., 80% in France, 76% in the U.S. and 73% in Germany. Here's the full chart with each country consumer usage penetration by device: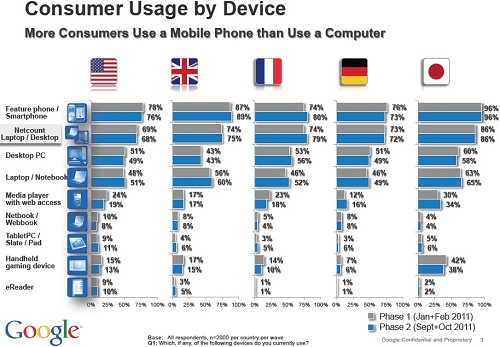 Consumers Shifting Towards Smartphones
There is a clear growing adoption of smartphones over the two period examined. All markets have show a significant rise in smartphone ownership where Japan generated the biggest jump (almost triple as much), however still has the lowest rates of smartphone ownership (17%).
The U.K. has the deepest penetration of smartphone owners among the countries examined, 45% (grew from 30%). The U.S. and France both have 38% smartphone reach and Germany has 23% reach.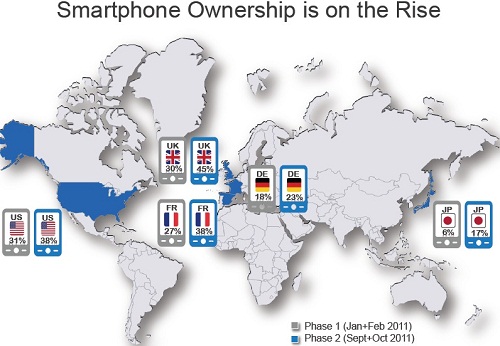 Smartphone Owners Accessing The Internet Every Day
Accessing the internet becomes a more regular activity for smartphone owners. 69% of smartphone owners in the U.S. are using their devices to access the web on a daily basis, up from 67%. In the U.K. 54% are accessing the web with their smartphone (up from 50%) and in Germany 49% (up from 39%).
There is a small decrease of accessing the internet with the smartphone in Japan, 88% from 91%, however it still has the highest percentages. Surprisingly, in France, which already had the lowest percentage of smartphone internet usage, there was another decrease to 36% (from 41%).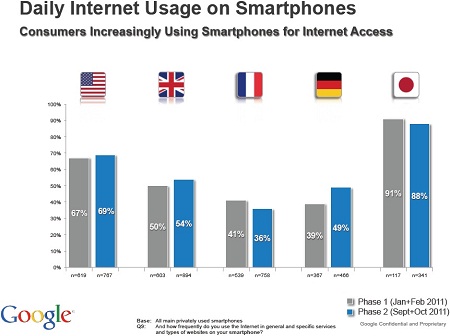 Overall, it is pretty clear why mobile advertising is surging: The mobile industry has deep penetration to all western markets worldwide, consumers are using smartphones more and accessing the web on a daily basis with these devices.