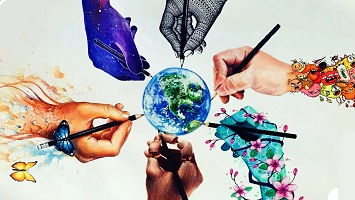 Whether professional or amateur, novice or veteran, any artist will know that putting their work in front of an appreciative audience can be one of the hardest aspects of creating and sharing. Even with the rising popularity of social media placing an element of control back into the hands of the artist, finding the right audience can still be difficult.
However there is an ever-growing list of options out there for getting your work seen by the people who need to see it.
1.) Merchandise
Great works of art can exist and thrive outside of a canvas. There are now a multitude of businesses that will place your original images onto merchandise, such as t-shirts, tote bags, and mugs; they'll even create prints! It's incredibly easy to set up, a great way for new people to discover your work and gives those who already love your art a way to appreciate it outside of the norm.
2.) Workplace exhibitions
Art in the workplace is becoming more and more popular; there are companies that you can work with who will hang your art in offices across the country as part of a specially curated selection for months at a time. This means that an audience will see your work every day – as well as any visitors to the building – plus you have all the benefits of knowing that your work is on display.
3.) Social media
As alluded to earlier, social media has been revolutionary for getting your name out there, particularly for emerging artists. With a little bit of time dedicated to your artist accounts every day: researching the best hashtags for your particular niche, engaging with the community and posting at the busiest times of day, you can watch your audience grow.
4.) Local business
Small businesses can be incredibly receptive to the idea of displaying the work of local artists in their spaces. Of course, we've all seen the pieces adorning the walls of the local coffee shop, but other businesses – particularly those with waiting rooms and public seating areas – are also responsive to the idea of hanging local artists' work. Potentially hundreds of people could have the opportunity to contemplate your work on a daily basis thanks to local businesses.
5.) DIY it
If you build it… they will come! Find a local arts space, or even a community hall, and put on your own exhibition. Engaging with the local community and social media will help to get the word out, but also consider reaching out to and collaborating with other local artists. Set up the space together and exhibit jointly. Being able to display your work to a group of engaged visitors is a wonderful way to make direct contacts in the local community too.
There are a number of steps, including the ones outlined above, that you can take to make sure your art is seen and enjoyed. Plus, with the magic of social media, people worldwide can find, buy and perhaps even wear your stunning creations too.
Content Written By Samuel Thorn