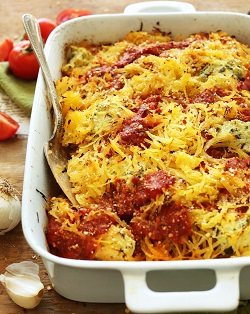 My Italian genes make it difficult for me to go without spaghetti for too long. I love how it smells and the texture and shape are so fun to play with. However, lately it has been rare that I find spaghetti that I can eat without worry.
As a vegan it is often hard to find a restaurant that will have a cheese-free or butter-free spaghetti sauce, even though regular classic marinara sauce does not traditionally contain dairy or meat. As a person who watches my weight and my calorie intake, regular grain spaghetti can be the source of empty calories and excess carbohydrates. Needless to say that when I first tried spaghetti squash, I was elated to find a dish similar to spaghetti that had countless varieties and uses and a calorie content that didn't need any counting (but if you must know, one serving has just 37 calories)!
You can have spaghetti from a vegetable, and the best part is that it pretty much makes itself. The innards of this yellow squash are thin and stringy, like noodles, and cooked any way you like, it will turn out to be a great meal or addition to a meal. You can prepare the squash and freeze it for a few months if you want, but as with any food, the less time in the freezer, the better. My favorite way to prepare spaghetti squash is just like spaghetti: with tomato herb sauce and with meatballs (made with a meat alternative, of course).
To prepare the spaghetti squash, there are multiple ways.
My favorite is baked: Wash whole spaghetti squash, puncture holes with a fork or short skewers. Bake in oven, in any pan for 1 hour on 375º.
In the microwave: Cut squash in half and remove the seeds. Microwave in dish with ¼ cup water on high for about 10 minutes or until tender.
Boiled: Boil water in a large enough pot for the squash. Place squash (carefully!) in pot and boil for 20-30 minutes, or until tender.
In a crock pot: Make sure the squash can fit in your cooker first. Add 2 cups of water to cooker and pierce the whole squash with a fork. Cook for 8-9 hours on low.
After it's cooked, let it cool for awhile, cut open and remove the seeds. Use a fork to pull the squash strands from the outside rind.
Now to make it a meal:
Really easy 'meatballs'
Heat up a veggie burger or two in the microwave with plastic wrap over the top so the sides don't get too stiff. Let cool a bit, cut in thirds and ball up the 'meat' into balls. Cheating? Not if it tastes good!
You can also use tempeh, slightly blended with some basil and garlic before forming into balls (or squares or triangles if you want; there are no rules). Then bake on a cookie sheet or sauté on a pan in a bit of vegetable or canola oil.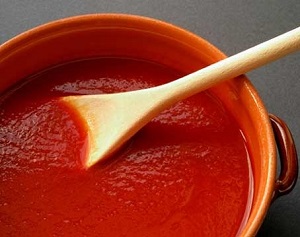 Really easy marinara sauce:
2 cans or cups tomato sauce, or blended tomatoes
1 can tomato paste
1 diced bell pepper (optional)
¼ diced purple onion (optional)
Parsley
Basil
Bay leaves
Oregano
Garlic powder/salt
Combine tomato sauce, paste and peppers and onions, if desired, in large pot on medium-low heat. Stir well. After about 5 minutes, add herbs to taste and simmer on low heat for about 20 minutes.
Turn off heat, remove bay leaves with slotted spoon.
Place 'meatballs' on top of your steaming hot spaghetti squash, pour on your sauce and enjoy!
David Smith is a vegetarian who has been involved in health and cooking industry for many years. He shares his vegetarian recipes at WannaPasta.com and many other health websites.