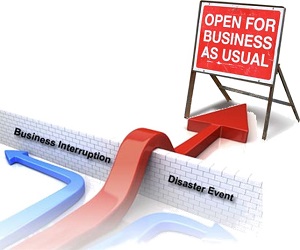 Whether referred to as organizational resilience, business continuity, disaster recovery, continuity of operations, or risk management, every beginner should be aware of the important terms associated with sustainable programs.
Here are some of the most common BC terms in one convenient sheet you should know about.
1. Business Impact Analysis
This term refers to the defining, measuring, and assessing of the financial, customer, and regulatory impacts. This then leads to the determination of optimal Recovery Time Objective (RTO). Most likely, you will determine that the cost of not having organizational resilience is high.
2. Recovery Time Objective (RTO)
Recovery Time Objective is the targeted duration of time that a business, operational process or system must be restored after a disaster, disruption, or unexpected event. The duration of time is important if negative impacts and undesirable consequences are to be avoided. It requires you to ask yourself how long the disruption can be allowed to continue before there is the damage is irreparable.
3. Cyber Security
To prevent a cyber security breach from negatively impacting your business continuity, or force the organization into disaster recovery mode, reinforcing the IT infrastructure is of great importance. Remember that IT members are only one part of the continuity process, but they are integral to resolving hacks, cyber attacks, and ransomware.
4. Evaluate and Control Risks
This term refers to the process of identifying and assessing risks, threats, vulnerabilities and impacts in order to increase your organization's resiliency. Areas in the organization that can be strengthened include internal, external, financial, social, and structural aspects.
5. Business Continuity Strategy
Organizations all need a BC strategy; this is not simply a lit of tasks to complete, but a well-thought out management plan that accounts for disruptive or unexpected events. Determine the financial, technological, operational, and social strategies with a cost benefit analysis in order to assess the cost of implementing the strategy against the asset that is at risk.
6. Emergency Response and Operations
To address life safety and stabilization of emergency situations, you will need to create a plan that will control the situation until first responders arrive. Make sure you coordinate with local and emergency agencies as you draft this plan.
7. Document and Implement Recovery Plan
Design, develop, and implement business continuity strategies and have them approved by your organization. Afterwards, be sure to document all recovery plans, including what worked and what didn't work during actual events or testing of the plans. This is one of the best ways to uncover the best practices and opportunities for improvement.
8. Build Enterprise Engagement and Execute Buy-In
Successful engagement and buy-in is the only way business continuity can be proven effective. An effective business continuity expert must establish and maintain corporate awareness, while gaining the executive support of business continuity management. Simplifying the common training language for the team can lead to optimal engagement.
9. Crisis Communication Planning
BCM solutions are strong only if they have a well-founded crisis-communicate plan. It is important to maintain team, emergency responder, and public communications to ensure maintained continuity. Lack of communication can lead to mistrust and unwanted speculation.
10. Exercise, Test, Audit, and Maintain
In order to be considered effective, BCM programs have to implement a regular testing schedule to maintain predictable recovery performances that can be repeated. You can learn from both mistakes and successes.
These terms are a strong foundation to become familiarized with. From here, build upon your knowledge of BC terminology, in order to execute effective planning software to strengthen your program.
A published freelance publisher from print to on the web, F. Aldea enthusiasm is reliable authentic publishing. From the routine knowledge to an incredible remark, F. Aldea usually discovers a method to voice what he sees.