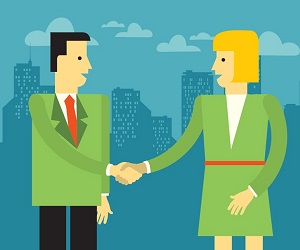 Just like sales, recruiting is about finding the right people and convincing them the accept your offers. In order to improve the hiring process, recruiters could learn some important lessons from the salespeople who are very good in convincing their clients to buy the products or the services they offer.
Here are seven important lessons to learn from the best salespeople:
Put yourself into your candidate's shoes
Salespeople know that they have to put themselves into the client's shoes, to understand the buyers and their way of thinking. Being empathetic with their clients it is the key to success for many salespeople. Understanding your buyer makes it easier for you to present your products and services in a way that will attract them. It will also help you select the products and services that are the best for them.
The same thing happens in recruiting. Listening to the candidates and trying to put yourself in their shoes will help you find out if the open job suits them and will also give you an idea about what kind of offer you should make and how to present it in order to be accepted by the right candidate.
Choosing the right words
Salespeople use a language that grabs the buyer's attention and interest from the first minute.
A good recruiter should also choose his words carefully and use the right language when communicating with a potential new employee. Some psychological knowledge is needed here and also a good understanding of communicational strategies.
It is recommendable to be conversational, friendly and authentic when communicating with your candidates, write original e-mails to them and show empathy when talking.
See the hiring process as a funnel
Usually, salespeople move their potential clients through a funnel, each step being measured and optimized in order to increase the sales process efficiency.
The funnel strategy is also used in recruiting today. A recruiting and hiring funnel help you optimize the hiring process.
Have as many candidate sources as you can
Salespeople always have a list of potential buyers and that makes it possible for them to have a constant flow of leads.
The same thing should happen in the recruiting department. An updated list of candidates to consider will always have to be there. To have this list, recruiters should source candidates anywhere they can. Having as many sources (job boards, social media, referrals from the other employees)  as possible is essential for them.
Using hiring software
Good salespeople are skilled at using special software that helps them through the sale process.
The same should happen with the successful recruiters. Using an applicant tracking system will really help them in the hiring process.
Be enthusiastic
Being enthusiastic is essential both in sales and recruiting. This is not always an easy thing to do as both of these jobs require many repetitive tasks that can make you get bored. Try to keep the level of excitement high, even if you don't feel like that all the time. Your candidate should feel you are excited and enthusiastic. That will make him think of your company as a nice place to work in.
Long-term relationships
Successful salespeople build long-term relationships with their buyers and potential clients and always have a database of people that might be interested in the products or services they sale.
A good recruiter should do the same. A candidate that didn't fit on a job, can be the right person for a future role in your company. Having a database of potential candidates for various jobs is essential for a successful recruiter.
Executive Connections, one of the best job agencies Dublin, source the very best talent in order to offer real value to our clients.
F. Aldea is an Online Marketing communications consultant and blog author who loves to explore the newest trends in business, technology and marketing communications and writes about a range of topics.