When it comes to decorating or restyling the home, a lot of people place the door handles they have pretty low down on the priority list. Yet, the door handle is the first thing a person sees when they enter a room, and the last – so it's important to make a good impression.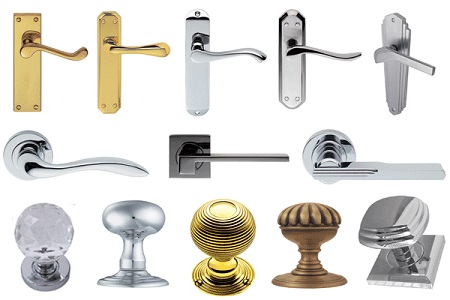 In fact, far from being just functional, a door handle can add style to a room and cement a particular look. Here are some tips for selecting the perfect door handles.
Styles and designs
There are heaps of door handles out there, so you need to have a think about the type or style that you want, before you rush out and buy one. Look at the rest of the room, what kind of style are you trying to emulate? This will reflect in the type of door handle you choose. Some designs can be very ornate whilst others are more practical and modern, for instance. For door handle design inspiration, consult interior design magazines or browse catalogues from homes stores.
But, there are lots of other things you need to bear in mind, as well.
Budget
You'll find it easier to select the perfect door handle if you have a budget in mind of how much you have to spend. Will you be replacing just one door handle or handles in other rooms of your house? If you're replacing more than one handle, then split the budget between each room so you know how much you can afford for each one.
Suitability
A door handle is used for opening and closing a door, but before you pick out a new one, decide how suitable it will be for the people in your home. Any door handle should be easy to operate, but if you have children, then they may find some handles with levers tricky to open, so in this case, knobs might be more convenient.
Materials
Door handles come in a range of materials, including brass, chrome, satin, iron, steel and glass, for instance. Whichever you choose depends on the look that you want to create and how the handle will match with the door. Aside from aesthetics, some materials are easier to manage than others. If you have children, then you might want to opt for acrylic handles as they are easy to keep clean. You can also buy handles that are a combination of materials, such as porcelain or brass. If you want to create a vintage feel to your home, then antique brass doorknobs work really well. For a minimalist, modern look, then go for glass or chrome handles with straight lines.
Security
Another consideration to bear in mind when you buy a new door handle is whether you want to have a lock incorporated into it. This is particularly useful for a bathroom or master bedroom door handle, but maybe not so for a living room or a child's bedroom. Try to choose one that is sturdy and reliable, made from good quality materials.
Crispin Jones is the writer for Principal Homebuyers – a UK Based company that matches home buyers and sellers when a quick or speedy sale is required. Check out their blog for more articles and content.