With Christmas just days way, everybody is eyeing up smartphones to give and receive on the big day. But before you go with the latest iPhone just because it's an iPhone, you should look to the future and think about postponing your gift giving until an equally effective, arguably more reliable smartphone is released. I'm talking, of course, about the most anticipated smartphone in 2017: the Samsung Galaxy S8.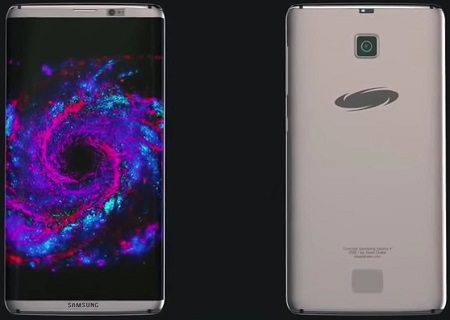 While we won't be so bold as to guess an exact release date for the phone, Samsung's history suggests that it's due to hit the market in the first quarter of next year and, if rumors are to be believed, it's going to be the most groundbreaking product the company has ever produced.
Here are some things you should know about the Samsung Galaxy S8 before its big reveal.
Screen
The screen is the first thing you notice about any phone, so let's start off with that. The Samsung Galaxy S8 will likely be fitted with a 5.5 inch curved screen and feature a 4K display. A smaller model is planned to be released alongside this, with a screen size of 5.1 inches and a QHD display. There is some speculation that the Samsung Galaxy S8 will do away with the home button, giving us a nifty all-screen design.
Headphone Jack
When Apple revealed that its iPhone 7 would make the bold move of eliminating the headphone jack in favor of wireless AirPods, many tech enthusiasts threatened to make the jump to Samsung. Now it seems those people are caught between a rock and a hard place as recent reports suggest Samsung plans to follow in Apple's footsteps. The Samsung Galaxy S8 looks to terminate the headphone jack as Samsung marches further into the future of technology.
Camera
If you're a vlogger or just an avid Snapchatter, you're going to be curious about the quality of the camera on the most anticipated smartphone in 2017. The Samsung Galaxy S8 will feature both a front and rear facing camera, which isn't really a surprise in this day and age. The former comes in at 9.0 megapixels while the latter offers users a staggering 30 megapixels. Most in the know expect it to feature a dual-lens camera along with the dual-pixel technology of the Samsung Galaxy S7.
Battery
Battery life is like that old knee injury that's been nagging you since your high school football days. It surfaces, seemingly at the worst possible time, and totally derails your plans. A phone can have all the features in the world, but if the battery is liable to die after a couple of hours, it's not going to be much use. Thankfully, the Samsung Galaxy S8 seems to alleviate the problem which has been bugging smartphone lovers for years. It is rumored that the phone's battery will last for longer periods than we are used to and reach an almost complete charge in just half an hour. Now that seems pretty fantastical, but only time will tell.
Price
The Samsung Galaxy S8 seems set to change the world of smartphones forever, but just how much is it going to set you back? Samsung products generally come in at a little cheaper than Apple alternatives, but that doesn't mean you can cover the cost with a month's pocket money. If you're buying your Samsung Galaxy S8 in the United States, you can expect to spend around $850, while potential Samsung customers in the EU should be ready to drop €750. Those in the United Kingdom will be met with a price tag of £600 or so.
This article was written by Ted Rallson, he is a writer at Eleventy Traveller Blog.