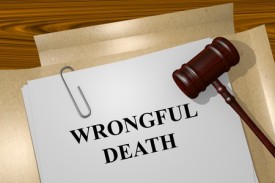 There are a number of lawsuits that are filed each year. While a majority of these are personal injury lawsuits, wrongful death is another common type of lawsuit. This is where the survivors of a deceased person file suit against another person or organization that caused their death.
With wrongful death lawsuits, there are a number of facts that people will want to keep in mind.
Wrongful Death Action
Lawsuits pertaining to wrongful death are able to be filed separately from criminal charges. Legal dictionaries and sources say that neither a criminal or wrongful death proceeding can affect or control the other. This applies to all cases whether the death was caused intentionally or not. As a result, wrongful death lawsuits are completely separate from criminal cases and have no influence on them either.
Not the Same as Negligence Claims
When it comes to wrongful death lawsuits, they are not the same as negligence claims. Those who make negligence claims will file a case if they are injured and can provide an account of damages due to the injury. In some cases, a person can file suit against an individual who was acquitted of a crime that resulted in someone's death. With wrongful death cases, an individual dies and their survivors are able to file a case against the party that likely caused the death.
Car Accidents are a Major Cause
Wrongful death lawsuits are often filed due to an individual getting killed in car accident. Whether it is drunk driving or lack of attention, car accidents play a significant role in many deaths which are then contested in court. With a number of deaths caused by car accidents, the survivors of the victim are often able to file suit against the driver who caused the crash.
Many are Caused by Medical Errors
A considerable amount of wrongful death cases are filed due to medical errors. In a number of wrongful death lawsuits, the plaintiff will often sue a medical practitioner who made a life ending mistake. While many medical practitioners often get sued for wrongful death, a vast majority do not receive any penalties. However, since medical malpractice is a leading cause of unexpected death, it is often one of the main reasons why wrongful death lawsuits are filed.
Most Result in Injury or Death
These types of lawsuits are often filed because the individual has likely suffered a premature death due to another person or company. As stated earlier, car accidents and medical malpractice are two of the most common reasons why these lawsuits are filed. Since the person's death was completely unexpected and could have been prevented, the victim's survivors are often looking to get compensation. They are also looking to make the party held accountable as well. Therefore, wrongful death lawsuits become a very effective course of action to help cope with an untimely death.
Conclusion
Wrongful death lawsuits are among the most common types of legal disputes that take place. With a wrongful death lawsuit, survivors of a deceased person will be in position to get the compensation they need in order to cope with their loss. They are also designed to help make people responsible for their actions as well. The five facts about these lawsuits will help inform others about how and why these lawsuits take place.
Steve Roberts founded the Law Office of Steve Roberts, LLC. By sticking to his principles of protecting the rights of people injured due to another, provide honest hard work, maximizing client recovery, and that clients always come first, he has developed a strong relationship with the Colorado Community. If you have been injured, check out Colorado Roberts Law to speak to an attorney today.