People living in the Southern United States know the drill when a big storm is brewing. Boarding windows and doors, hitting the local grocery stores and Home Depots are just a few things we all do when a potential hurricane is announced. This prepping routine occurs yearly because we know how a hurricane is capable of creating a significant amount of damage. Stories of life loss, wreckage, and destruction are many, but let's see which are the worst hurricanes in the past decade.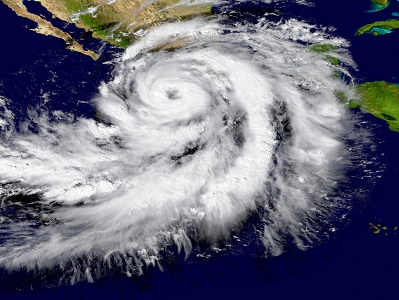 According to the Saffir-Simpson hurricane wind scale, a hurricane is a tropical storm which has consistent wind speed above 74 mph (category one). The most powerful hurricanes have wind speed above 157 mph (category five).
1. Hurricane Sandy – 2012 – category 3
As most hurricanes located in the Atlantic Basin, Sandy started out as a tropical storm in the Caribbean Sea, close to Jamaica, Cuba, and Haiti. The localized storm quickly turned into a huge storm system, covering almost 600,000 square miles. The massive, slow-moving system made United States landfall in October 2012, wreaking havoc on the East Coast. In addition, storm surges destroyed Northern states, such as New York and Connecticut, destroying large parts of Staten Island, Brooklyn, and Queens.
Sandy killed 186 people (117 in the United States alone) and destroyed or damaged more than 650,000 homes. The property and infrastructure damage was astonishing – more than $75 billion and climbing. This makes Sandy  the second-most costly hurricane in US history, after Katrina.
2. Hurricane Ike – 2008 – category 4
Hurricane Ike swept through vast portions of the Greater Antilles and Northern America during early September 2008. This abnormally large storm has destroyed vast areas in its path, particularly in Cuba, Lousiana, and Texas being ranked the costliest tropical storm in these areas. The massive storm affected even Eastern parts of Canada and was felt as far away as the Azores.
Ike was responsible for 187 deaths (112 in the United States and 75 in Haiti) and caused $37.5 billion in damage. The American Red Cross managed 241 evacuee shelters and ensured over 160,000 overnight stays.
3. Hurricane Irene – 2011 – category 3
Irene was a massive tropical storm originating in the Caribbean Sea, near the Lesser Antilles. It initially made landfall in St. Croix on the 20th of August in 2011, but quickly moved towards Puerto Rico later that day. In the following days, the slowly moving tropical storm reached the Bahamas, already having reached category 3 status and wind speeds of over 120 mph. After a reduction in intensity, it veered and reached the shores of North Carolina on August 27. After several more landfalls, the storm reached New York City on August 29, where it destroyed the beach area and several buildings.
Irene caused the deaths of 56 people and destroyed vast areas in its path. Overall, the damages are estimated to hover around $15.6 billion.
4. Hurricane Gustav – 2008 – category 4
Gustav was the second hurricane of the 2008 season and reached a wind speed of more than 150 mph. It originated near Port-au-Prince in Haiti and quickly spread out to neighboring Cuba and Jamaica before heading to the Gulf of Mexico. After a gradual weakening, Gustav made landfall near Cocodrie, Louisiana. During the following days, Gustav moved around the south-central United States, destroying towns and cities in its path. The tropical system was absorbed on September 4 by a separate north-bound system. Gustav is responsible for the deaths of 153 people and total damages of $4.3 billion ($2.1 billion in Cuba).
Hurricanes can be highly destructive and can require disaster restortaion. Call Central Florida Commercial Services for damage control.