One of the best parts to building a new home is the freedom to play with the layout and design. There are a lot of layouts that can really add both a touch of class, and a lot of convenience at the same time, making them a very practical luxury. One of the newest trends in these practical luxuries is a walk in closet.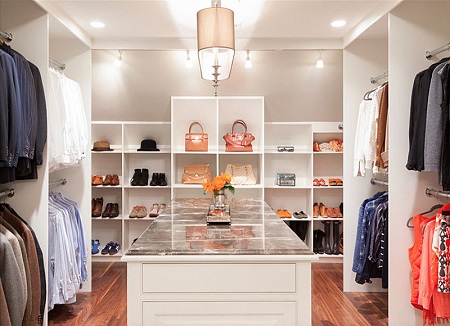 For many people, having a walk-in closet is high on the wish list for a dream home, if nothing else because it's a room dedicated to clothes and shoes, a personal shrine for your wardrobe. However, there are a lot of practical benefits to have a large walk in closet. So if you need a little justification, or just some neat ideas, here's a little more on what people have been doing with the walk in closet.
Saving Space
If you're building a new home, you may as well take advantage of the of the layout process and design yourself a nice big walk in closet. One of the biggest advantages is that you get to save space in the rest of the master bedroom, as the walk in closet can easily accommodate dressers and other necessary storage space. If you really want to get thrifty with your space, consider building shelves and extra storage compartments.
Another new trend for walk in closets is to build an ironing island in the center. This can be a really good way of saving space as well as adding some grandeur to your closet. This allows you to iron your clothes on the spot when necessary, without clogging up the walkways in your bedroom.
Nothing Wrong with a Little Vanity
Sometimes you just need a private place to get ready. There's no better way to feel like a star with your own private dressing room. Many homeowners are building a vanity into the walk in closet, creating the perfect dressing room. Here you can do your makeup in peace, all within easy view of your potential ensemble allowing you to walk out dressed to the nines and feeling like a star. Just make sure you have proper lighting around the vanity and enough space to maneuver and you'll be good to go.
Going Au Naturale
Who said a closet has to be a dark and dismal place, meant only to hide clothes and other sundry items away. Many new homeowners are building their walk in closet with a window. This not only allows daylight in, but you can also let in a little fresh air, making it the ideal place to get dressed without feeling stuffy or claustrophobic.
Ultimately, the way you build your walk in closet is up to you, the only limitation being your imagination. There are a lot of clever ways that you can not only save space, but help to add a little grandeur and convenience to your daily life. If you're building a new home, or remodeling an existing one, consider building your own walk in closet and the possibilities therein. Have some fun with it and create a space that is just as unique as it is practical.
Citations:
+Ken Uhrich likes houses. In fact he lives in one. You can drop him a line at the Custom Home Group website.