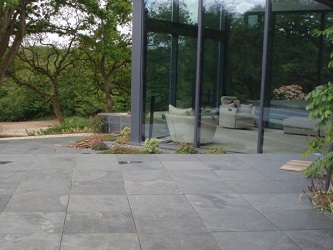 The summer months of the year are upon us and millions of people are ditching the confines of their houses to appreciate some warm relaxation in the garden.
After a long winter with some tough weather conditions, some of our patio areas are in need of a little TLC. So now is the ideal time to consider a garden revamp.
An outdoor area is a natural extension of your living space – somewhere to spend afternoons with your family and friends, lounging on patio furniture and enjoying long lunches, BBQs, conversation, play and drinks.
The number of hours that you spend in the garden mean that it is worth investing in an overhaul that is both attractive and long-lasting. With this in mind, a stylish slate patio paving is the perfect foundation for your garden face-lift.
Climate Suitability
Slate patio stones create a real oasis for your garden during the summer months. They have a reasonably high thermal mass which allows slate to absorb heat during the day, which is pleasant for bare feet wandering around on a warm day. At night, the heat will then be released back into the atmosphere.
During the winter months, the resiliency of slate tiles is useful as it ensures that even if the temperature drops below freezing, they won't crack or spoil and will still look just as good the following year. Other popular patio floor choices such as wood decking don't fare as well as slate. Softwoods need to be regularly treated with oil and can be slippery during wet and cold weather.
Durability
Slate stones are an extremely durable choice of patio material. When there is a heavy amount of foot traffic going to and from a patio area during the warmer seasons, homeowners need to use patio paving that can withstand the extra pressures. Safety is also something which needs to be considered, particularly if you have children who run around on the patio area.
Heavy spills that might occur from watering cans, drinks or paddling pool overflows could cause an accident on the wrong type of patio flooring. However, the rough surface of slate provides a convenient safety feature which makes it harder to slip on than a smoother floor. Slate also manages to endure heavy direct sunlight without spoiling.
Aesthetic Appeal
Landscapers and garden designers are fond of working with slate patio stones due to their beautiful natural colours which provide aesthetic appeal. Slate stones present a polished yet authentic look which brings a tremendously refined look to the exterior of your property.
When you welcome guests into your home, they will be wowed by the sophisticated quality of your slate patio garden area. Additionally, if you are considering moving on from your home at some point in the future, then slate stones will add to the potential resell value of your property.
Now is the time to transform your drab garden space into an elegant and chic living space. You can browse through various design options for inspiration on how a slate patio would work in your garden, or alternatively enlist the help of landscaper for professional guidance.
Chloe Cotton is editor-in-chief at The Happiest Homes, a leading UK digital home magazine.