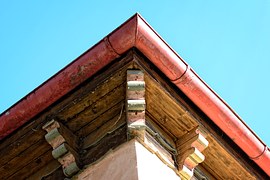 Depending on your income level, your home will probably be one of the biggest investments you ever make. It makes sense, therefore, that you do everything to keep it in great shape for as long as you do own it.
For something that significant, it's interesting that something as little as the gutters can do untold damage to it. Yet, many people are routinely careless about their gutters.
In this article, we'll examine how having a seamless gutter can protect your home and keep it in great shape. If you're looking to install a new gutter or repair an old one when you should outrightly change it, you should seriously consider choosing a seamless gutter. Here's why:
Controls Moisture in the Home
The quickest way to control moisture in the home is to control the drainage from the roof in the first place.
A home without a properly installed gutter or a leaky gutter will most likely suffer from excessive moisture in the crevices, garages and crawl spaces. Having all these naturally means the abundance of harmful mold and wood fungi –both of which are harmful to your health and those of your kids.
Protects Your Home's Foundation
If you want to keep your foundation solid for years and years, you need to minimize anything that will compromise its structure.
A home without a seamless gutter will most likely suffer from a foundation compromise, seeing as the runoffs will have a direct impact o the active soil zones underneath the foundation, causing it to shift and weakening the foundation's structure.
Prevents Topsoil Erosion
Not installing seamless gutters on your property is a surefire way to have an ugly looking yard or landscape.
This is because the direct impact of the runoffs and water flow will gradually but surely erode the topsoil in the immediate environment, resulting in an unsightly landscape and yard. Prevent this by simply installing a gutter to carry off the runoffs from the roof.
Keeps Your Plant and Gardens in Great Condition
Having standing water in your garden, flower beds or hedges will result in the abundance of fungi and insects such as roaches, termites, and ants.
Fungi often need moisture to thrive. This means that once that is readily available, all it takes if one spore to have an invasion. Insects, on the other hand, will most likely congregate around the water source, resulting a population explosion with time. The result is the defacement of your flowers and gardens.
Keeps the Walls from Becoming Defaced
If you are particular about not having your walls, siding and trim defaced, then having a seamless gutter installed in the home will prevent this. Without gutters, there'll be a backsplash, the growth of greenish algae and lichen on the walls, resulting in the defacement of the walls. As if this isn't enough, prolonged exposure of the walls to moisture will result in "puffy" or cracked walls.
Minimizes Structural Damages
It is easy for your home to become structurally damaged if there's no proper runoff system to carry the water away from the home. This is largely one of the reasons why the basements are flooded, moldy and have poor indoor air quality.
Having a seamless gutter means that runoffs from the roof will be properly channeled to the appropriate drainages as well as avoid any leakages in the gutters in the process. This way, your basement's humidity can be lowered as well as the air quality being better.
Some of the other major benefits of installing seamless gutters include prevents fascia and soffit rot and ensures your windows and doors last long. They are also very long lasting and require little or no maintenance, except for the periodic cleaning.
If you decide to replace your gutters with seamless gutters you should look into hiring a profession, such as the gutter experts at Aerotech.
Oscar King, a freelance writer and homeowner is constantly looking for ways to improve his home. If you would like to learn more about Oscar, you can check out his google+ profile.