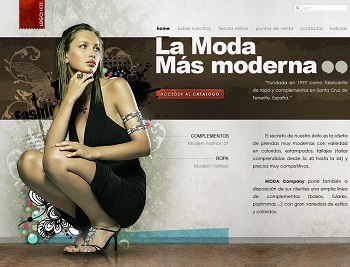 When creating a fashion website, it is very important that you don't rely solely on your own taste. Take time in asking around, know what is fashionable and what is not. If you have a website designer who knows exactly what to do, it doesn't mean that you will end up with a good looking website. Whether your website is a fashion portfolio, a blog, an app or an online magazine, you need to have good guidance when it comes to eventually creating it.
There is little information on fashion website development, so it is important to keep the following guidelines in mind when constructing a website.
Know What You Need
If you have the capability to design a website, then you need to move on to more pressing matters. If you have the proper, first class website designing software, then most of your work will be made easy. If you do not have it, then you need to invest in one as soon as possible. It would be advised to hire a website designer to get the work needed for your website. That way, you will have access to a professional mind and can incorporate their ideas into your own webpage.
Choose a Fashionable Design
It doesn't matter if you use website designers or software to create a website. At the end of it, you will be the one who decides what style the page will adopt. It is very important to make the entire website presentable so that it caters to the interests of the audience. Some of the things that you should pay attention to when it comes to the design of the website.
Color Scheme
Font's legibility
Zoom in feature
Picture galleries
Background
Animation and effects
Search in the Market
The fashion industry is the most competitive in the world. Unless you are at the top, you need to do your research. Once you have researched in the field, then you will be given information about things such as:
Saturation in the Market
The interrelationship between demand, supply and price
Competitions and market tactics
Keywords
Behavior, needs and interests of potential clients
Put in Pictures Carefully
Attractive photos can make your website one of a kind, so you have to be very careful. Though eye catching pictures give your website a more solid chance at getting attention, you have to know which complement the website and which can make it look bad.
You can use pictures separately or arrange them all in galleries. Both of these are good options, but if you wish to present all the visual content you have, it would be wise to use a gallery. All you need to make sure is that the pictures are eye-catching without being flashy.
Starting your fashion website will mean that you have to keep up to date on all the goings on in the fashion world. The emergence of new and more developed fashion websites has given designers and potential investors more chances to get in touch with potential clients. So whenever you design your website, you have to make sure that it is appealing enough to get the attention you need.
Scott Heron is a leading authority in web design and has created websites on many platforms. For more information on designing fashion website designs, click here.