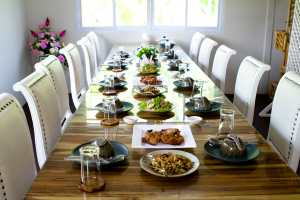 Have you ever thought of designing your own dinner service, something that is bespoke to you and will create a wonderful family heirloom that is so unique everyone will want it? Having a vision of something you want to create is wonderful. If you know how you want your table to look, what kind of atmosphere you wish to evoke and where it will be stored after use, then designing your own tableware is an exciting opportunity for you and your family.
Tableware designers have a wide variety of options that will help you do this, these can range from do-it-yourself plates through to a professionally made china dinner service. Finding the right option for your budget and taste is all perfectly possible. Send your designs to a company that makes custom designed plates, if you are after an heirloom then you will require something that is of exceptional quality. You may want to research and add your family crest or a logo to your pattern, or coordinate your dinner service to a specific room, the options are endless.
The Tableware
So what tableware will you need to establish the perfect dinner setting? Tableware is essentially the dishes and dishware that is used to set a table for informal or formal dining. This includes cutlery, glassware, serving dishes and other pots that may have a purpose such as mustard, or condiments. So it's important to establish exactly how many seating's you will require, I would suggest an extra couple in case of any breakages, as once you have sent off your designs to be made, it may well be harder to get the odd replacement if something were to be damaged.
You should then consider what type of tableware that you need and would like. How formal are you likely to go? If you were to have a full dining set then this would include, chargers, dinner plates, starter plates, side plates, large bowls, small bowls, cups and saucers, milk jug and a sugar bowl. You may of course only wish to have a set that was purely for a three course meal. This will be budget dependent however a full set will make a wonderful heirloom as well as a display and talking point in your dining area.
Setting
Setting the table refers to arranging the tableware; this includes setting every individual place at the table as well as decorating the table itself in a style that is suitable for the occasion. Tableware and table decoration is typically more elaborate for special occasions. Varied dining areas will demand that the tableware is adapted. You may decide only to use a proportion of your bespoke china.
However whatever you use, a custom-made set of china will make any occasion unique, it will create memories for all of the family, the little ones will remember as they grow older and each piece will have its own story to tell. Therefore creating your own dinner service requires love and thought, after all it will be staying within the family for generations to come.
By Harry Price
Harry Price is a frelance writer from the south coast. He spent many years travelling in exotic foreign countries and spends a few hours a week teaching english to foreign students.