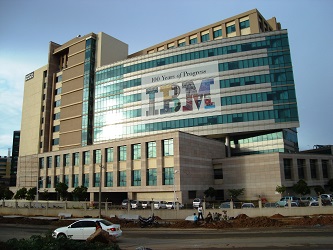 IBM announces plans to open a new data center in Chennai, India, that should prove a boon for both the long term computer industry giant and the Indian people.
IBM was once the behemoth of the computer industry. This statement may seem odd to those of the younger generation who know more about Apple and Microsoft. Yet, there was a day when IBM ruled. Now, it seems that "Big Blue" wants to return to its old glory. Perhaps the company will never again be on top but that will not be for a lack of effort.
Recently IBM announced its latest endeavor, a plan to open its first public cloud data center in India. Located in the city of Chennai, the center is part of a $1.2 billion international program to expand data access. IBM also formed a partnership with NASSCOM, the Indian outsourcing group, to bolster the developer ecosystem in the country and expanded a relationship with Accenture.
Benefits For IBM and India
The first benefit of the proposed operation accrues to Chennai area residents. These people will enjoy increased computing speed once the center begins operation. As India continues to grow as an economic powerhouse, entrepreneurs will need such capability to compete on the global stage. Secondly, Indian technology developers, which some expect to double to over 5 million in number by 2018, will benefit from the increased access to IBMs Softlayer cloud service.
As for IBM, the company has become a data center operator, more so than computer manufacturer, demonstrating a successful ability to re-brand itself. Investors have taken note, proven by the stock being recommended as a "buy" by many Wall Street analysts. It seems IBM will remain with us for some time to come, a survivor in a business that requires constant innovation.
IBM as Example of Business Resilience
IBM demonstrates some things tech companies can do to remain profitable in the 21st century. First, they have to be willing to re-brand, when necessary. If Big Blue had tried to remain an electronics manufacturer, it would probably have fallen to the wayside years ago.
Second, they have to be willing to move abroad into emerging markets. In the Information Age, developing countries are hungry for technology. The people and leadership in these locales know that Internet access is a key to their future prosperity. Global corporations, such as IBM, can benefit from these expanding markets, especially the rapidly growing BRIC economies (Brazil, Russia, India and China), while also doing good for humanity.
Responsible Capitalism
Times have changed. In the past, developed nations sent in their entrepreneurs to extract the resources from the underdeveloped world. We have only to look at the histories of Africa, Asia and Latin America for many examples of this negative imperialist strategy.
Today, IBM, and others, provide a definite value to developing nations, while also sustaining a profit. It is the best situation for all involved. In an era when many Americans have justifiable questions about the role of the "corporate citizen," the IBM data center in Chennai provides evidence that capitalism can work for the common good, when done right.
Katrina is a product specialist, solving issues for your computer server and power needs at Racksolutions.com.