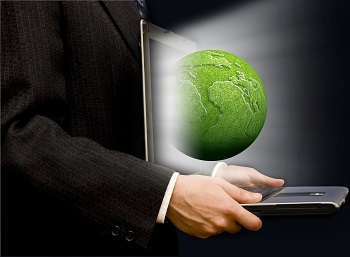 As consumers become more conscious of the environment, eco-friendly businesses have gained an advantage in the market, by creating a positive brand image that makes them stand out. However, going green is no longer a clever (and expensive) marketing ploy. Reducing the carbon footprint of your business can bring short- and long-term benefits, future-proofing your organisation from rising costs as well as bringing down your current expenses.
If you're looking to make your organisation more environmentally friendly, here are 5 ways in which your business can 'go green.'
1. Become More Efficient
It's easy to fall into habits in business. Leaving technology on standby, turning up the thermostat a few degrees, or keepings lights on when employees are no longer in the room, are all easily done in a busy work environment. But have you ever sat back and audited your energy consumption, to help you manage it more effectively? Energy management systems can identify areas for improvement, to reduce your electricity bills and ultimately your carbon footprint.
2. Intelligent Lighting
Identifying where you are wasting energy is one thing: tackling it is another. Reminding staff to close doors and switch off lights can be an uphill battle, so instead of trying to train your employees, automate the process. Intelligent lighting not only controls the 'on' and 'off' switch when people enter and leave the room, but can adjust the lighting to suit the level of natural light to keep your energy consumption under control.
3. Recycling
Recycling is a great way to reduce the impact of your operations on the environment, ensuring that waste doesn't simply go to landfill sites. As well as recycling your own waste, choosing recycled products for your office or production can make your business more eco-friendly. These easy changes to your buying process can all add up to make a difference.
4. Renewable Energy
All of these can reduce your short-term costs and carbon footprint, but in the long-term how is your business planning to remain sustainable? Invest in renewable energy now to watch your electricity bills fall – you could even generate cashback through the Feed-In Tariff (FIT). From solar panels to biomass boilers, there are plenty of options available for businesses.
5. Green Investing
If your business isn't ready for renewable energy, it may be that you can neutralise your carbon footprint in other ways. Planting trees and funding wind projects are just some of the ways in which the commercial sector can give back to nature. Green investing can also be extremely lucrative in some cases.
Start reaping the benefits of sustainability for your brand image, expenditure, and long-term outlook. Whether you're searching for small changes to become greener or you're looking to transform the face of your organisation with renewable energy, there's no shortage of ways to reduce your carbon footprint.
For independent advice from a team of experts, choose a green energy consultancy firm to assess your energy consumption, your current infrastructure, and how to improve your profile with cost-effective changes.
This article was written by Kelly Gilmour Grassam with useful information from GMI Energy. You can follow Kelly on Twitter @KellyGGrassam.