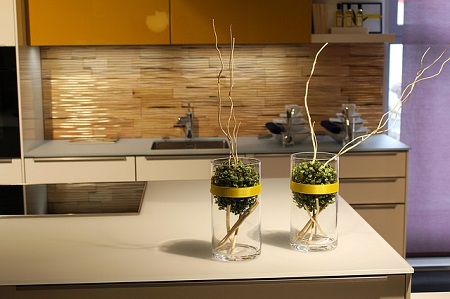 Every kitchen deserves to be treated with care and respect. It is the place where food is prepared and (of merged with the dining room) were we eat. Also, we spend a lot of time here and it is probably the room with the highest rate of traffic in a house. Therefore, it should be decorated and designed so that it meets all the hygienic requirements that a 21st century modern kitchen has to meet.
In addition to that, it should be adorned with equipment and furniture that does not harm the environment, but helps its preservation.
Reusable materials
Wherever it is possible, use the kitchen furniture items and other decorations made from reused materials. The first one that almost goes without saying is used wood. Tons of scrap wood are either burnt or taken to landfills every year, which is an enormous impact on the environment. Instead of buying kitchen cabinets or parquet made of new wood, you could go of items made of reused wood. There are other items, too, that can be made of scrap wood, such as kitchen tables or custom-made wooden Venetian blinds, which can add a special vintage feeling to your kitchen.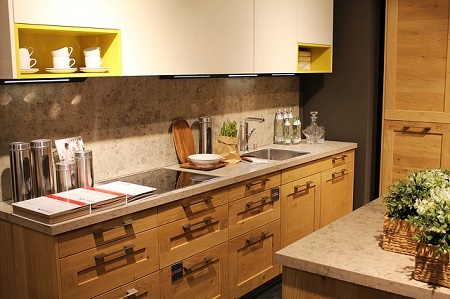 Apart from wood, another natural material can be used in the kitchen – used stone. Instead of returning used stone to nature and wasting money on new amounts of stone from a quarry in another part of the world, just reuse the stone around you. For instance, it can be used for stone counter tops. When talking about counters, it is important to stress out that they can be made of various other reusable materials.
Natural light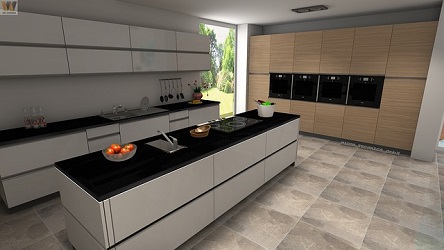 When it comes to light in the kitchen, it is vital that you try to get as much natural light as possible. A sufficient amount of natural light will keep your electricity bill harnessed and you will also have a cozier atmosphere in the kitchen. If you are not satisfied with the amount of sunlight that you get, a skylight window can help a lot, if your kitchen allows for such an option. In addition to the window, you could put skylight window blinds, in order to decorate the kitchen even more. Just imagine how great it would be to prepare something tasty and hot, while watching the snow attacking your roof window.
Easy with water
Every household needs to care for overall water consumption, starting from your own habits to well-functioning appliances and fixtures. When choosing a refrigerator, oven and other heavy consumers, it's always better to choose the ones with Energy Star label that guaranties energy efficiency to a certain degree.
As for the sink – you can go with the recycled one made from stainless steel, glass or porcelain that will not only look exquisite but will make your kitchen look unique. Also, make sure to choose high quality kitchen mixer taps that will make sure you easily control the heat of the water and are made in compliance with eco-friendly standards.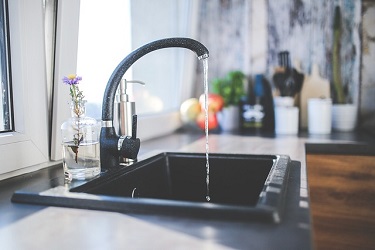 The kitchen is a place where water pours more than in all other rooms (including the bathroom). In order to keep the kitchen green and spare your budget from larger expenditure, you should always keep an eye on the plumbing system. Make sure that pipes do not get clogged but keep them maintained either with a plunger or home eco-friendly uncloggers which should be regularly poured into the plumbing system.
However, if a more serious problem occurs, avoid dealing with it on your own. Water under pressure can be quite moody. You certainly do not want to ruin your flooring or make damage to the walls. Instead of playing a plumber, ask for an emergency plumber intervention, which will solve the problem and spare you additional costs that an amateur enterprise could cause.
Kitchens can be embellished in thousands ways and finding the best one for you is a life-long quest. Always try to introduce something new to your kitchen and make it modern and as effective as it gets to keep it the soul of your home. The more green ideas you manage to apply when doing that, the better.
Article by Ariel Bellamy.