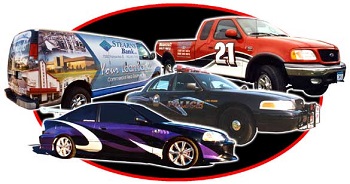 If your business has a company fleet, you have a brilliant opportunity to raise the profile of your business by branding your cars, vans or lorries with vehicle graphics. Vinyl wrapping is a cost-effective form of marketing, and a way to make a good impression when your representatives are on the road.
But what are the essential things to consider when investing in vehicle graphics? Let's take a look.
 1. Eye-Catching Design
A branded vehicle is essentially mobile advertising, so to a certain extent vehicle graphics design requires the same attention to detail as a marketing campaign. You might have a soft spot for a certain colour or style, but stay focused on the purpose and goal of vehicle graphics to create a high impact design that will 'drive' enquiries and sales for your business.
2. Layout
When investing in vehicle graphics, you want to be sure that you've got the layout just right. Is key information such as your website address and telephone number in a logical position? Will the size and layout of the wrap fit around your car or van body, and any doors or windows? Planning is paramount when designing vehicle graphics, so don't cut corners in these crucial first stages.
3. DIY VS Professional Vehicle Wrapping
For the reasons above, allowing an experienced, professional vehicle graphics company to take care of your design is often a smart choice. However, when it comes to applying your vehicle wrap, it's even more essential. Imperfections such as overlays and bubbles can totally ruin the overall effect of graphics, so hiring experts for this process will ensure that the final results look fantastic.
4. Timing
Vehicle wrapping is a fantastic investment if you've recently acquired a new company vehicle or updated your branding. But to get the most out of your vehicle graphics, you want to ensure that the information listed, branding, and of course your vehicle has a long lifespan. If you know that you're going to be adding new services, changing your contact details or updating your fleet soon, wait until the moment is just right.
5. Alternative Transport
Depending on the size of your vehicle and the wrap being applied, vinyl wrapping can take several days. So if you decide to go ahead, make sure that you arrange alternative transport whilst your car, van or lorry is having its makeover. A professional vehicle wrapping firm will work with you to find dates that suit your schedule, and give you an accurate estimation as to how long you will need to wait before collection.
Vehicle wrapping is a great way to market your brand on the move, to improve your presence locally, regionally and even nationwide. Designed and applied professionally, vehicle graphics can really establish your company in the market, and even generate new sales and enquiries simply by going about your daily business!
Have you had a great response from previous vehicle wrapping or have another reason to do it to share then please comment below.
This article was written by Kelly Gilmour-Grassam, a self confessed foodie with a penchant for travel. Follow her on Twitter @KellyGGrassam. This article was written with useful information from Signspec.