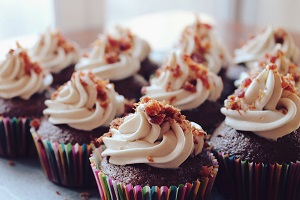 Have you ever stood in your kitchen, admiring your latest batch of freshly baked cupcakes and thought 'I could do this fulltime'? You're probably not alone, but taking your baking skills from a fun hobby to a serious business takes a bit more than knowing how to make the perfect butter icing. However, if you're willing to put in the hard work and dedication, it can really pay off.
Here's your recipe for success:
Take one kitchen….
Firstly, let's be realistic. Is your kitchen suitable for producing large batches of cupcakes? If the answer is yes, great! If it's a no, you need to consider your options. Would you consider renovating? Do you know of local kitchen space for rent? You could even make a deal with a friend or family member who works 9-5 and won't be using their kitchen. You also need to set up a workspace with a computer and a decent printer so that you can invoice correctly, sort tax forms and create any promotional material you might need.
You kitchen also has to be held to the same standard as a professional kitchen, which means no smoking, no pets and no small children running around during baking hours. If possible, laundry and similar domestic chores should not be done at the same time. Keep your surfaces in good condition and use sanitiser to keep them clean and germ free.
This same level of professionalism also applies to you and any fellow bakers. Your hair must be tied back, you must all wear protective clothing and you shouldn't bake while wearing perfumes, nail polish or jewellery.
Add in the legal bits…
All food businesses must be registered with the Environmental Health Service, and that includes your brand new cupcake start up. Even if it is just you in your kitchen, you still need to be registered or you could face a hefty fine. You can also take additional training such as food safety courses. While not a legal requirement, they do show customers that you're committed to food safety. They also start from as little as £10.
High-risk foods, which include vital cupcake ingredients like cream and eggs, must be refrigerated to below 8 degrees. This also goes for high-risk finished products, such as cream cakes.
Don't forget your secret ingredient…
Cupcake lovers can easily walk into the supermarket and pick up a sweet treat, so you need to have something unique that makes customers turn to you when they're in need of their cupcake fix. Are you brilliant at creating cartoon character style cupcakes? How about highly sophisticated icing or unusual flavour combinations? You can also promote the fact that you use 100% fair trade ingredients or jump on the gluten free bandwagon.
Now for the real work…
A cupcake business actually doesn't require a huge amount of financial outlay, with the right baking accessories all being fairly cheap and easy to come by, but be prepared to invest a lot of time and effort into making it a success.
At this point, it's all about promotion and you can do this for free in numerous ways. Social media should become your new best friend. Post pictures of your latest recipes and creations and let people know that you're available for parties and events.
Show up at food fairs, school events and local markets. Go armed with samples and business cards. Team up with local charities to create branded cupcakes and make your talents known. Basically, just do anything to get your business name out there.
For the first few months you should be thinking about your business morning, noon and night. However all of this hard work will pay off when the orders start rolling in!
Eloise Durrant is the founder of The Gourmet Cupcake Company. Based in Chelmsford, Essex, The Gourmet Cupcake Company offers a range of baking and decorating courses, as well as specialising in creating beautiful and delicious cakes.