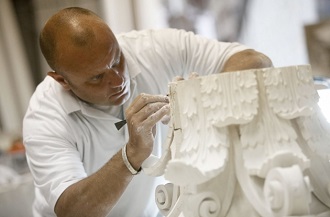 Historic Origins
From Egyptian pharaohs and Roman soldiers, to Georgian gentleman and Victorian industrialists: all would have been familiar with the art of plaster moulding. Each of these cultures used decorative mouldings to enhance both the interiors and exteriors of their homes. Perhaps some of the best-known examples of such mouldings are Greek columns. Many art students will recall being taught the mantra 'Doric, Ionic and Corinthian'.
These names refer to styles of classical Greek columns, which adorned temples and houses alike in the cities of this ancient civilisation. The art of plaster mouldings endured through the centuries. For example, in the Regency era it was fashionable for dining chairs to be arranged around the edge of the room, so the dado rail came into vogue to protect walls.
Later in the Victorian period, when chairs were tucked under tables, the dado rail's popularity faded, whilst picture rails became fashionable. The Victorians loved excessive ornamentation, and often hung several pictures and mirrors from these decorative rails.
Today, the traditional Victorian cornice is in high demand once again. Dado rails, picture rails, cornicing, friezes and ceiling roses; these are just some of the historic plaster mouldings that now represent the most lusted-after period features in historic homes. But how could you employ these styles in a modern house?
Ancient inspiration
If you would like to use plaster mouldings in your home and need some inspiration, why not have a stroll around a period house or Museum? Many National Trust properties hold fine examples of plaster mouldings. Even older examples can be found in museums, such as London's British Museum, whose many collections of Ancient Greek and Roman architecture can be browsed online. This historic research may inspire you!
Which room?
In the eighteenth and nineteenth centuries, when decorative mouldings were an indicator of wealth, many opted to display these in their more public rooms. Dining rooms and living rooms, where visitors would sit, were therefore popular choices for decoration.
The mouldings were often matched to the function of the room, so food many be worked into the cornices of a dining room, whilst flowers may have been used for a sitting room. Why not follow suit? You could opt for a floral frieze in a conservatory or garden room, and a cornice design that incorporates fruit and foliage for a kitchen or dining room?
A complementary style
There is a plaster moulding to complement your home, whichever style of house you have. If you favour a minimalist look, then opt for clean lines in a classical style; think symmetry and simple, geometric shapes.
If you have a period house, then you could opt for a more elaborate Georgian or Victorian design, with repeating floral patterns and striking, curvy shapes. Perhaps you like a continental look, in which case a Greek key pattern or Roman-style column could evoke the charm of Mediterranean.
Those with large hallways may favour a niche, which would also make a striking feature of a disused chimney breast. A ceiling rose can also enhance many types of house, adding a central point of focus and balancing a room. Again, select a style that matches your own. Whichever plaster moulding you opt for, you can be certain that drawing on this historic decorative style will add unique style and interest to your home.
Jon Riley is the co-director of Locker & Riley, who are reviving traditional plastering techniques to bring a touch of luxury to modern homes.