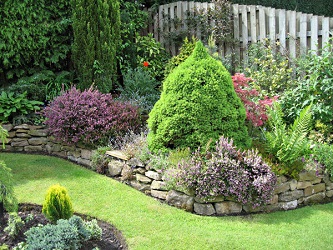 Few households have the luxury of a large garden, and yet when the sun is shining and you want to spend your weekend outdoors, it's important that you have an area where you'll enjoy those long summer days in privacy. Having a small garden isn't the end of the world – you just need to get smart about how to make the most of it.
Follow our expert tips and advice to transform your outdoor space from a meagre small garden to a mini oasis for your family.
Know Your Priorities
If you want to make the most of your small garden, you firstly need to work out what matters to you. Do you want a colourful space full of flowers, a great area for BBQs and drinks with friends, or somewhere for the kids to enjoy playing outside in the summer? Your priorities might change over time – an outdoor terrace for al fresco dining might become unsuitable when little ones come along, for example.
Then you need to ask if your existing garden ticks the boxes – if the answer is no, then you might need to redesign your outdoor space. In some cases, it might be as simple as constructing a BBQ or planting grass seed to replace a flowerbed or two. Alternatively, you may want to enlist the help of a landscape gardener who can help you design your garden and transform it to fit your new vision.
Making the Most of Your Outdoor Space
They say that great things come in small packages, and if you're prepared to get creative with the way you use your outdoor space then you needn't fret over the size of your garden. Folding furniture, for example, is a fantastic way to keep your outdoor area versatile for any occasion – so when you're not lounging in the sun you can put the chairs and tables to one side to make more room. Instead of installing a permanent BBQ feature, a portable one can do just as good a job for a Sunday afternoon as a big bulky gas-fuelled barbeque.
Hanging baskets and flowerpots are much more space-efficient than flowerbeds, and can add a burst of colour to your garden without crowding it out. Vertical gardening is an easy way to make the most of height in your garden; climbing plants can transform that drab fence into a beautiful feature, and visually expand the size of your outdoor area. The more original and eye-catching your solutions are, the more impressive your garden will become.
Get your priorities in order and design a garden that meets your requirements, to make that small space a super place to unwind in the sun during the warmer months. With a little help and a lot of creativity, you can create an enviable garden that looks and feels much bigger than it actually is, and that suits your family down to a T. So here is to a great summer in your beautiful garden.
This article is written by Kelly Gilmour Grassam, a freelance copywriter from Yorkshire. You can follow her on Twitter at @KellygGrassam. This article has been written with helpful information from Gagajoo Lanscapes.