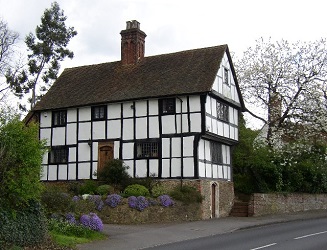 Congratulations on deciding to buy a period property! Period properties are full of character and there's something magical about purchasing a home that has seen all kinds of people living between its walls.
It can be great fun uncovering original features, such as tiled floors and open fireplaces – and it's equally rewarding managing to hunt down the perfect piece for your home from an antiques fair or thrift store.
But before you take the plunge, check out our list of seven essential do's and don'ts when it comes to buying a period property and make sure you've got everything covered before you sign on the dotted line.
Do check if your property is listed
Not all period properties are classed as listing buildings. You should do your homework on the status of your building and also find out if it is in a conservation area.
Don't expect the estate agent's notes to provide you with listed information. They don't legally need to tell you if a property is listed or not. Your solicitor will be able to give you a definitive answer on its status instead.
If your property is listed, it means you will need to check that alterations you make to your home don't break any building regulations. If your property is located in a conservation area, you might have the benefit of working with a conservation officer from your local authority, who will be able to provide guidance on maintenance and improvements to your property. If any exterior changes are made, they will need to be in keeping with your property's surroundings.
Don't be afraid to explore
Buying a property is a huge expense, yet most of us only spend only twenty-five minutes looking around a property before we decide we want to buy it. It sounds like madness, doesn't it? Chances are, if you're looking to buy a period property, you will spend much longer than half an hour looking around before making a decision.
Make sure you check out the attic, the cellar and any outdoor spaces. It's also worth looking in cupboards to see if the condition of the walls can provide any clues towards the condition on the property.
Revisit the property at different times of the day, to get a feel for the area and how much light the property receives.
Neighbours can also provide insight into the property's history and might be able to tell you what other people have done to improve the property over recent years.
Do check utility bills
You may think that older properties are less energy efficient than new builds. However, this isn't always the case. Previous owners may have had work done to improve the insulation in the home, such as improving the boiler system or installing loft or cavity wall insulation.
Check with utility bill suppliers, who will be able to tell you the average costs of running the property. You could also ask the current owners who may be able to provide you with bills from the past twelve months.
Do work with a specialist surveyor
Period properties are very different from post-1930s homes and you should enlist the advice of a professional who has experience working with this type of property. Consider integrating a RICS (Royal Institute of Chartered Surveyors) survey with an IHBC (Institute of Historic Building Conservation) survey to get full insight into your buildings historical features and what opportunities for improvement will be approved.
The IHBC survey will also reveal which previous repairs have been approved by your local council. If you are looking to purchase a listed building, this is something you certainly want to find out as new owners are liable for previous repairs carried out on listed properties.
Don't scrimp on the contingency budget
Whether you're looking to renovate a period property and bring it back to its former glory, or modernise it, whilst still being sympathetic to the original features of the house, always make sure you have a healthy contingency budget. As a rule, for period properties, this should be around twenty – thirty per cent of the buying price of the property.
Don't stretch yourself when buying your period property. It's much better to go for something a little cheaper, so you have a healthy contingency reserve, then to go for a property which maxes out your budget and some of your contingency funds too.
Do consider your plans
In some areas of the UK, period properties can command up to four times as big an increase in house prices as new build homes. This is because there is limited supply of period property to the market, and therefore the price of your period property is likely to increase.
Unlike new builds, which are typically built to modern trends and aesthetics, period properties have a timeless appeal, which never goes out of fashion. Consider this fact when you purchase your property. Any changes you make should be in keeping with the age of the property and should highlight original features.
Take a look at neighbouring homes and developments. How is the area likely to change over the next five to ten years? Is the area you are buying into a student area, where many homes are converted to flats, or is the area more suited to a young family?
Consider your plans for your property and if you're planning on residing in the property, what it will be like to actually live in. Remember, you need to create a beautiful, yet practical space in an area suited to your needs.
Don't forget to take pictures
Taking photographs when you are visiting your property will help you when you come to write up your planned schedule of works. Take as many photos as you feel necessary, including images of the corners of the rooms, the conditions of the windows and the exterior space. It's also worth taking pictures of the outside walls and any brickwork too.
If you are viewing more than one period property, photos will help remind you which properties are which and will jog your memory of the particular features you found interesting.
Buying a period property requires a lot of background research and effort on your behalf. But the rewards can well outweigh the time spent planning, visiting and researching. After all, you never know what exciting treasures you might uncover!
Mike Low is the Director of the leading Chelmsford Estate Agents – Balgores Low. Mike has over 20 years of experience in the property industry and was managing his first office by the age of 24.