While most businesses and energy companies talk about lower costs and carbon emissions, there's another reason to invest in energy efficiency measures: happier, healthier and more productive workers. Here are some methods you can use to improve energy efficiency in your workplace.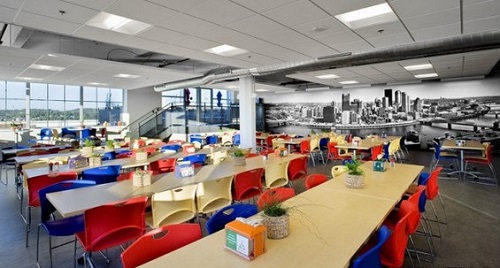 Rearrange the office
According to Mental Health Research UK, going without daily sunlight can lead to lethargy and depression – losing around 1 million working hours each year.
Office layouts that allow plenty of natural light reduce the need for electrical lighting throughout the day. Make sure skylights and windows are well utilised and encourage your staff to step outside during their lunch break. You could even organise walking trips during lunch hour to incentivise healthy exercise.
Increased exposure to daylight will keep your workers happier, with a high number of workers being affected by the negative effects of Seasonal Affective Disorder (SAD) due to waking up in darkness and returning home to it.
Tweak the temperature
It may seem common sense that a comfortable temperature will make your workers more productive, but what's less obvious is that just a couple of degrees can make a big difference. According to ergonomics expert Chris Adams, the majority of research shows that the optimal office temperature is between 21 and 23 degrees Celcius.
Google is just one company drawing parallels between energy efficiency and a more productive workforce. "Energy efficiency is a huge focus for Google — both in our productivity and our operations — and we've found that it aligns with our goals for healthy workplaces," says Anne Less, Google [e]Team Innovation Program Manager. "There is a strong correlation between workplace satisfaction and temperature, and similarly with Googlers' self-reported productivity."
Luckily, with the latest technology in smart thermostats becoming available, you should be able find the right balance between maximising productivity and minimising your bills.
Ventilation for the nation
With people now spending 90% of their time indoors, research by Energy and Buildings indicates that better ventilation can reduce illness and in turn boost productivity and morale. Improved ventilation also minimises damp, condensation and heat loss.
You should have your extractor fans and heaters routinely cleaned by a professional to ensure they are working to their full capacity. Another handy trick is to rotate the blades of ceiling fans with the seasons; clockwise for an updraft that sends warm air downwards in winter and anticlockwise for a downdraft breeze in summer.
Reap the hidden costs
If you look at your business costs, you're likely to find that you spend more money looking after your workers than you do on gas and electricity. With improved energy efficiency, you could experience increased productivity as well as a reduction in sick pay. So, when your energy efficiency scheme has a positive effect on your people, it will also have a positive effect on your pocket.
If you haven't done so already, it pays to compare gas and electricity deals for business. Use a price comparison site like uSwitch.com to see how energy companies stack up on price and service and then take a look at your favourites individually to see if you can get any deals by shopping direct. The best deals on the market are all fixed energy tariffs, so you might wish to choose one of these and freeze your energy bills for a period of usually 1, 2 or 3 years.
The best news is that it's now faster than ever to switch energy companies, with the time it takes to switch being slashed from 5 and a half weeks to just over 2 weeks, including a 2 week cooling off period.
Ronald Hurk works for a well known energy provider and enjoys blogging in his spare time. He often provides insights and advice for consumers looking for savings.