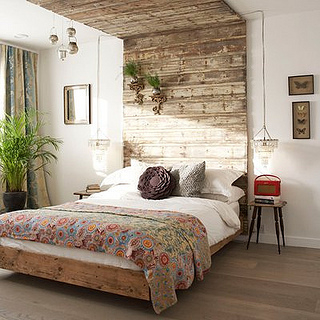 This style probably fits a bedroom best, considering its functions and its nature. A rustic bedroom looks amazing and is very warm, but you need to know how to create such a feeling.
Some of these ideas will surely help you in creating a rustic bedroom with a warm and comfortable feeling.
Use wood
Wood, in its natural form, should be your primary choice of material. We are talking about actual wooden stumps in the ceiling, use wooden coffee tables, even the frames of the bed can be made out of wood.
Natural wood is something that should dominate in the design of your bedroom if you want it to look rustic. Wood should never be painted. By coloring it you remove the natural, organic beauty, and you are hiding it behind color.
Other ways to introduce wood to your interior is to totally layer the walls with it. This kind of design will make the bedroom incredibly relaxed and comfortable. Various types of furnished wood add a lot of character to the decor. You can use it for the floors, as well as the furniture and other elements.
Use natural textile
Using a lot of fabrics will soften up the interior of your bedroom and make the ambiance a bit more fluff. Cotton sheets, wool and linen are excellent choices. There are many ways to use different details to decorate your bedroom. You can use a soft carpet, long curtains, pillows…
Play with textures
When talking about textile, you can use that opportunity to play around with texture. Try combining different textures to create a contrast and create balance in your decor.
Fireplace
A fireplace is an important element in a rustic bedroom. It usually becomes a focal point in the decor. In rustic design, it is a traditional fireplace, often covered in natural stone or wood.
Chynky furniture
A rustic bedroom should not be smooth, with delicate pieces of furniture. The furniture should be big and robust. Choose big pieces and beds with robust frames, from wood or metal. Forget airy and fresh decors. That's not the goal here.
Lighting
Lighting plays a key role in such a type of decor, any decor for the matter of fact. In the case of a rustic bedroom, lighting should be soft and warm. Chandeliers are a popular options. Those made from metal are especially nice, because they add a bit of industrial charm. Speaking of metal, stay away from shiny elements. Copper is what you should be looking for. As for curtains and blinds, they go well in such a decor too. But mind the design, they should match the rest of the room.
Colors
The pallet of colors in a rustic bedroom should keep neutral tones, earthy like brown combined with beige, maybe a little red and black. Bold and light colors don't fit into this type of decor. And the always popular white is not a great option in rustic bedrooms, although it is an excellent pair to all colors.
Milan Budimkic is a creative freelance writer for industries that include but are not limited to the travel, sport, entertainment, internet marketing, and much more. When not blogging, Milan likes to travel and read a lot.