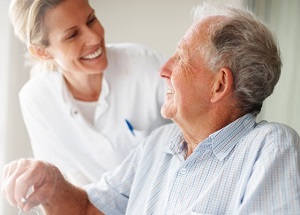 Getting older no longer means having to give up your home or independence, provided you have the right type of help in place. However, there are so many different agencies to choose from, it can be confusing to decide on who will deliver the best care.
So read on for a guide to choosing a reputable agency you can be sure of.
Decide on your Needs
You will need to sit down, preferably with a friend or relative and work out what type of care or help you need before going ahead with appointing an agency. Write down what you need help with, what type of medical care you need, how often you will want them to visit, and the most suitable times for you. That way, you will have all your thoughts in order and be clear about what you want when discussing your needs.
Staying Safe
All social care providers whether private or state funded, must register with a regulatory body. In England, this is the Care Quality Commission. Wales use the Care and Social Services Inspectorate. So always check that any agency you intend to approach or use are registered with the CQC. Simply go to the CQC website and type in any agency you're considering using. You can then check they are registered and to see an overview of the quality of care they provide. This should include reports from inspections.
Researching Agencies
You should never just choose the first agency you find, even if they are recommended by a friend. Always take the time to look around at different agencies, ask for brochures and see what they have to offer and how much they cost first. Obviously, you will have to choose ones that provide help in your area, so where you live will depend on the level of choice you have.
Questions you Should Ask
Once you have found some suitable providers, you will need to find out about them. Any prospective professional health care provider should be able and willing to answer all of the questions you will have. Important questions to ask include:
What types of care is the agency registered to supply?
Is the help flexible? For example if you need to switch the days you receive the help.
Does the carer live nearby?
Do they have a statement of purpose, explaining their standards and quality of care?
Is a contract available?
Are staff properly trained, monitored and enhanced police and reference checked?
How will the appropriate carer be selected?
How do your staff respect privacy and dignity at all times?
What happens if the normal carer is unavailable through sickness or holiday?
Do they have a high staff turnover?
Are there any hidden extras in the prices quoted? (eg VAT or travel costs)
Finally, if you are unhappy or worried about the care you receive, always raise it with the agency or tell a friend or relative. Remember, it's a service you're paying for, and so it should be right for you.
By Harry Price
Harry Price is a talented freelance writer from the South coast.  He lives in a small fishing village with his wife and 3 dogs.