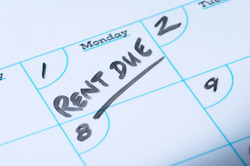 Letting property can be a lucrative business. On top of the rental income, the investment in property alone can be profitable in an economic climate like the current one. Many are predicting good things for the property market this year, and it is important that landlords are in a position to capitalise on this.
For those with sufficient funds, moving money into property is a no-brainer. Likewise, for those with empty properties to their name, letting is a no-brainer.
Of course, when letting a property of yours there is always one variable which you have to bear in mind: the tenants. The attitude of your tenants is often the deciding factor in whether your experience as a landlord is positive or negative. Good tenants will promise you a hassle-free rental period, with payments made on time and your property left pristine. Bad tenants can sometimes cause problems, be it unpaid rent or damage to your property.
Here, we take a look at the predicament of unpaid rent, considering how landlords can deal with it and how they might go about avoiding it.
Tenancy Agreements
First of all, it's necessary to note the importance of a tenancy agreement. With no legal agreement between a landlord and a tenant, there is very little either party can do in the event that things turn sour. It can be very difficult for landlords to obtain rent which is owed to them and there is nothing other than trust which promises that rent will continue to be paid throughout the tenancy period.
Even if the tenants are close friends of the landlord, it is always advisable to put a tenancy agreement in place. It is worth noting that this agreement can be oral or written.
Property Management
Tenancy agreements can be tricky to arrange. From time to time unforeseen circumstances can arise and these are often difficult to account for when coming up with an agreement. If the landlord is keen to avoid running into these difficulties, it is advisable to consider property management.
Spanish Property Expert Michael Liggan advised "Property management will not only put a strong tenancy agreement in place on behalf of the landlord, but they will allow for a careful selection of tenants."
By carrying out thorough checks on tenants, property managers can dramatically reduce the risk of rent going unpaid.
In addition, it is wise to put a deposit scheme in place which can allow the landlord to pre-emptively cover themselves in the event that rent goes unpaid. Certain management schemes can actually protect landlords from lost rent altogether by offering a guarantee of rental income throughout the period over which a property is let.
Balancing Deposits with Agreements
The key to ensuring that a landlord never misses out on rent lies in balancing deposits and payment with the tenancy agreement. A shrewd tenancy agreement will make it clear that the tenant has the right to reside in a property while paying rent. The period for which a tenant is legally able to neglect rent should be no longer than the period covered by the deposit.
Michael Liggan has been working in the property market for over 30 years and commands a vast knowledge of international markets having visited over 30 countries worldwide. You can find out more by visiting his social profile twitter, facebook, linkedin and Google Plus.