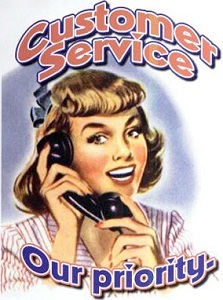 Nobody likes spending hours on the phone to a customer service advisor, and whilst some companies have a better system in place than others, there are several things you can do to make these calls more stress-free.
From being prepared to making your point concisely, here are 5 ways to make your call quicker and more effective the next time you have to ring your customer service team.
1. Have Your Details Ready
Before you can even speak to a real person, you often have to pass a few security questions when calling your company about an existing account. Of course you know your date of birth and address, but make sure you have more specific details such as your account number to hand before picking up the phone.
2. Get the Right Number
For large nationwide companies with several departments dealing with different calls, it's essential that you dial the right number to avoid being transferred and having to repeat your issue over and over again. By using a customer service directory, you can pick out the specific number for your requirements and get through to someone who can help straight away.
3. Get to the Point

Your broadband router isn't working, you have an unexplained bill, or you would like to make a complaint. Whatever the ultimate reason is for making the call, don't waste time going off on a tangent when trying to get to that point. Set out your reasons for calling as soon as possible, and add extra details and information later if necessary. By doing so, the advisor will know exactly why you need help from the minute you start talking.
4. Stay Calm
In order to make your message clear and concise, try to bring any anger or emotions under control when making your call. You might have a thousand colourful words that you want to use against the company, but remember that taking it out on the individual at the other end of the line isn't going to help your case.
5. Write Everything Down
Inevitably, sometimes we need to make a second call to our customer service provider. Perhaps you have to go away and put their actions into place, or maybe they need to transfer you to someone else. Make sure that you get the name of each advisor that you deal with, and write this down along with any other relevant details from the call. Not only will this jog your memory for future reference, but it will ensure that you get your facts right too.
Like it or not, sometimes we have to pick up the phone to get to the bottom of our problems. However by following these useful customer service call tips, you can cut down on the length of these calls, and get what you want quicker. So you can move on with the results you want and take less time out of your free time.
This article is written by Kelly Gilmour-Grassam, a freelance copywriter from Yorkshire. You can follow her on Twitter @KellyGGrassam. This article was written with useful information from Every Contact Number.