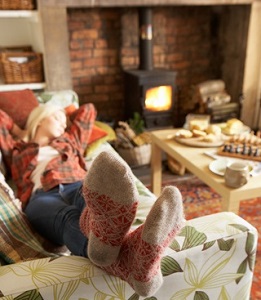 The country chic look has never been more in that right now, so what better time to bring a little bit of rural magic to your home? It doesn't matter if you've got a roomy house in the countryside or a little apartment in the city – the cosy country look is accessible and will turn every home into a welcoming and warm place you just won't want to leave.
So how can you go about achieving this? Well, we've put together a guide on how to get the look in your own home, a pair of muddy wellies by the back door very much optional.
Work with what your room has to offer
To create that country home setting, look at your surroundings. Do you have any beams or exposed brickwork? If you do, great – don't be tempted to cover them up! These characterful period features go brilliantly with the country look. If your room lacks character or is fairly new, think about doing something like exposing the bare floorboards and sanding them or whitewashing the walls. These create character in your room, something which the country style is full of.
Get some country chic furniture
When you're giving your home a county style makeover, upgrading your furniture is a great idea. Nothing says rustic chic like some chunky oak furniture – this is not the kind of scheme where you want to include ultra-modern polished metal and glass. That's not to say that the country style is old fashioned though, far from it! Think nostalgic and vintage inspired and you're on the right track.
Your want your furniture to look sturdy and a little bit distressed, or well-loved as we prefer to call it! Ordering a bespoke piece is a great way to get exactly what you're looking for but there is still a huge amount of ready to use furniture that looks fabulous. Large dresser cabinets and farmhouse tables are a fast-track to creating a cosy country feel in your property.
Time for those finishing touches
Once you've got your furniture sorted, you can think about the other finishing touches. Drape knitted throws over sofas and chairs for that cosy look. When choosing fabrics for upholstery and cushions, go for tartans and tweeds to evoke the feeling of a gamekeeper's lodge in the middle of the countryside.
What colours you go for are up to you – deep colours such as reds and greens are more traditional, whereas pastels give you more of an airy, modern look. Some fresh flowers on the table and some fair lights draped over a mirror give a soft, feminine touch. Finally, if you're lucky enough to have a log burning fire – get it going!
Your own style completes the look
Country style décor is all about items that are loved and well used rather than pristine designer pieces. So if you've got some heirlooms that you want to have on display, go for it! The country look is one that's not going to go out of fashion any time soon, so why not take the plunge and give your home a makeover? We might not be lucky enough to live on a sprawling farmhouse but with a few tricks and tweaks we can certainly pretend!
Nick Halls is the Founder of bespoke oak furniture craftsmen- Rustic Oak. Nick designs and crafts a range of oak beam furniture in their workshop based in Chelmsford, Essex.