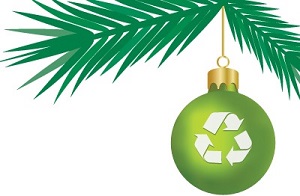 'Tis the season of self-indulgence. And telling people not to be excessive during the Christmas period is like telling Miley Cyrus to wear a fleece and trackies in her next music video. Some things just aren't going to happen – and there would definitely be no fun in telling you to lay off the mince pies and pull the lights down.
But as your overdraft extends backwards beyond the realms of reason, at least you can say you did your bit by following our handy tips for a green(er) Christmas.
Pick a Tree
Stripped of their splendour and abandoned naked at the roadsides, once-loved Christmas trees are a sad but familiar sight come January. According to the Forestry Commission, six million Christmas trees are abandoned every year.
Companies such as Forever Green Christmas ensure a tree is for life, not just for Christmas. They will deliver a potted tree to you in time for Christmas and come and take it away in the New Year for replanting and nourishing until the festive season rolls round again. If you take a shine to the fella, you can even request the same one next year.
Deck the Halls
They may be cheap but the decorations you pick up from pound shops come from the world's most polluting countries. Ramp up the sophistication in your home by decking the halls with boughs of holly – just like the song. Natural decorations like mistletoe and evergreens add a traditional feel to your home and the National Trust is even hosting events over Christmas where you can learn to forage for natural decorations and make your own wreaths.
Wrap up bad habits
Why do we spend so much on gift wrap only to throw it straight in the bin? Wrapping paper made with bits of foil cannot be recycled and neither can sticky tape. Stick to paper gift wrap or choose fabric gift wrap if you're feeling fancy. It can be used again and again and will make your gifts look a million dollars. Alternatively, use pages from glossy magazines as gift wrap. You could even use newspaper for a shabby chic feel.
Cook (and eat) smart
Buy local produce to reduce the carbon footprint of your Christmas dinner. Keep pans on lids when you're cooking your veg so it cooks quicker and use the microwave as your secret sidekick for even more eco points.
When it comes to leftovers, it's not all about turkey sandwiches. Pies, salads, curries, quiche and stir fries are just a few of the things you can make using your leftover meat. Give Delia a run for her money and make a strudel from leftover Christmas pudding or whip up a cheeseboard macaroni.
Be energy smart
Make the switch from traditional fairy lights to LED string lights, which are far kinder to the planet and use less energy. Next up, invest in a timer which will turn your lights on and off at set times so you don't have to go round the house switching them off before bed.
Protect yourself from being hit with a big energy bill in the New Year by comparing gas and electricity prices and switching to a cheaper tariff. Use a price comparison website and check prices directly with individual suppliers to see if you can get a better deal direct. You might also find it cheaper to switch to an independent energy supplier, or, for bonus green points, a renewable energy supplier.
Kim Landrover has an obsession with money saving and writes regularly about a range of subjects including energy, utility bills, coupons, discounts and many more.