You're probably in love with your home. It's decorated to your taste, it's in a great area, it's got a great view – we could go on and on. Sometimes though, you may feel as if there's not quite enough room, or you just need a space that's for you and not the kids. Well, a conservatory or orangery could be the answer to your prayers.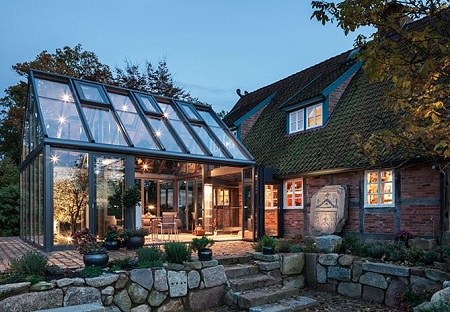 Not as obtrusive or expensive as a full extension, they allow you that little bit of extra space and a space to make all your own. Which one would work for you though? Well, firstly, you'll need to know what the key differences between the two are, which is where our handy guide comes in.
What are they both?
Orangeries first gained their popularity in Europe during the 17th century. This new building then found popularity in the UK after being seen in the grand houses on the continent. Their purpose was to provide shelter to fruit trees during the harsh winter months – hence their name. Conservatories are then thought to have developed from these orangeries, housing herb plants and shrubs during the winter instead of fruit trees. So the two buildings share a common purpose and today they are enjoyed by many a home-owner as a space to relax and look out onto the garden.
What differences are there?
The differences between the two are clear enough to be noticed on first glance. A conservatory, as you are probably aware, is primarily constructed from glass. Their shape can be easily adapted to the house they are attached to, and they are often simple rather than elaborate. Orangeries, on the other hand, are more of a bridge between an extension and a conservatory. They tend to feature a lot more brickwork, meaning that they can blend more seamlessly into the rest of your property. Conservatories are great at creating that 'outdoors meets indoors' feel, whereas orangeries allow for a bit more privacy while still letting in a lot of light.
What materials you prefer could also come to influence your choice. Conservatories are often seen in a wide variety of materials including uPVC, metal and wood – so there's plenty of room for manoeuvre when it comes to picking one for your home. Although, with more glass, conservatories can also mean more cleaning. As a more traditional structure, orangeries are more often seen constructed from timber, although there are some uPVC ones on the market that look great too.
Take some time to decide
As with any permanent addition to your home, choosing an orangery or a conservatory takes a lot of careful thought and planning. There's not really a right or wrong one to choose – it's completely down to the style of your home and your own personal preference. Talking to a professional architect will help you enormously, as they will be able to tell you what style is best suited to your home and your needs. With proper ventilation and insulation, your conservatory or orangery will be the perfect place to relax and unwind in all year round, no matter the weather! So which one will you choose?
Mark Caulfield is the Founder of bespoke conservatory designers – The Caulfield Conservatory Co.